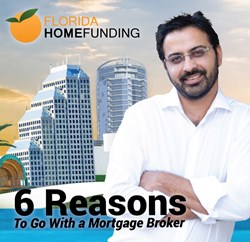 "Bank employees are exempt from the same strict background and licensure requirements and can even have a prior felony when working for a bank."
Orlando, FL (PRWEB) October 23, 2013
With the crash of the real estate market in 2008, mortgage brokers are now more regulated than ever and must adhere to very strict licensing requirements and federal background checks. The purpose of this press release is to inform consumers on the advantages of using an experienced mortgage broker.
According to HUD ( U.S. Department of Housing and Urban Development) using a mortgage broker can increase a borrowers chances of finding a loan program that best fits their needs. This is because mortgage brokers have access to several lenders compared to individual banks. http://www.hud.gov/buying/booklet.pdf
Here are 6 reasons why consumers should consider using a Mortgage Broker instead of going to a bank directly:
1. More Mortgage Programs:
Mortgage brokers have access to more mortgage programs because they deal with multiple banks/lending institutions. As a result they can cater to borrowers with various credit scores and offer more down-payment options through the wholesale channel. For instance, one bank may have minimum credit score requirements versus another that has a so called "near miss" program that caters to borrowers with lower credit scores. The bottom line is an experienced mortgage broker can increase the consumer's ability to qualify for a mortgage, compared to a bank that focuses more on the optimum borrower.
2. Incentive to Provide Better Service:
Mortgage brokers only get paid once the transaction is complete. As a result they have a stronger incentive to provide better customer service, offer lower mortgage rates to earn your business and expedite the underwriting process, so they can get paid. A good mortgage broker manages a handful of clients at a time versus the bank employees that may juggle 100-200 customers. As a result, mortgage brokers are able to provide consumers with the personal attention and service they deserve on their loan.
3. Flexible Hours Instead of Bankers' Hours :
A good mortgage broker works around their client's schedule and not bankers' hours. This is extremely important as most people work during the day and often don't have the time to sit and carefully make mortgage decisions until the evenings or on the weekends. Using a local mortgage broker gives consumers the opportunity to meet the person originating their loan face to face around their schedule.
4. Lower Rates and Closing Costs:
Small local mortgage brokers typically have lower overhead than large mortgage lenders or banks. The broker is spending the money and time to package the loan. Thus, they are able to offer lower interest rates and still maintain profitability. Banks/lending institutions offer lower interest rates through brokers, because their cost of acquisition on a loan is lower. It's as simple as the wholesale versus retail pricing concept.
5. Faster Turnaround Times:
Since brokers don't get paid until the loan closes they have an extra incentive to process your loan faster than a direct bank. Brokers have the ability to check with various lenders and determine which one has the fastest turn time in underwriting, at a particular time in the month. Certain times of the month are faster than others. Experienced brokers can close a loan in as little as 14 days, unlike the banks that can take up to 90 days.
6. Compliance and Accountability:
Mortgage brokers are required to undergo credit and federal background checks and must pass national and state tests to be eligible for a mortgage license. However, bank employees are exempt from the same strict background and licensure requirements and can even have a prior felony when working for a bank. Click here to see Florida mortgage license requirements and exemptions
About: I'm Shahram Sondi, owner and operator of Florida Home Funding, a Florida licensed mortgage broker. As a consumer advocate, I am constantly working to educate consumers on making good financial decisions. I have been serving the Central Florida market with experience and integrity since 2001. I bring you over 12 years of hands-on industry experience overseeing half a billion dollars in mortgage transactions. For more information, call 407-704-8729 or visit http://flhomefunding.com/.