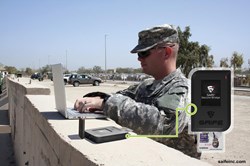 Washington, DC (PRWEB) October 23, 2013
Product Development Technologies, PDT, a global, full service product design and development firm has partnered with Cummings Engineering/SAIFE, the creator of Agile Security, a new standard in mobile security, to develop the Secure Bridge, a portable wireless access point that provides highly secured wired and wireless network connectivity to devices on the mobile edge with Common Access Cards meeting military authentication standards.
Today's military missions often bring soldiers to disadvantaged locations and networks; however, secure, real time communication remains mission critical. In military environments, Secure Bridge allows soldiers to securely connect to each other and to their enterprise via any transport including SATCOM, radios, cellular and WiFi, and with any device including COTS tablets and smartphones.
The Secure Bridge form factor, designed by PDT, utilizes patented SAIFE Connect™ software technology and a government Common Access Card to create a secure tunnel through a firewall using only outbound ports. PDT's designers and engineers worked with the Cummings Engineering team to make the device hardware simple and easy to use in any environment and on private as well as commercial networks.
"Our partnership enabled us to bring SAIFE's vast knowledge and innovation in software security with PDT's world-class expertise in product development for the defense industry together to create a one-of-a-kind security solution that can make our soldiers in the field of battle more secure," said Darren Cummings, CEO and Founder Cummings Engineering.
Secure Bridge works by surrounding an existing inner VPN tunnel to create a CSfC-certifiable double-layer VPN for the Commercial Solutions for Classified Program. As a result, information transmitted by any device type over any network is kept private and secure. SAIFE® technology meets and exceeds the highest commercial standards for point-to-point communications, regardless of device, network or mission. This ensures not only privacy but reliability and data integrity when it matters most.
"We are so pleased with the results our partnership is yielding for the defense industry and are excited about the implications outside of the military environment for the Secure Bridge as well," said Jaime Rubscha, PDT Project Lead for Defense Programs.
SAIFE is currently conducting briefings and pilot programs for military, government agencies and commercial enterprises.
The Secure Bridge will be featured at the AUSA 2013 Annual Meeting and Exposition at Booth 7643 on October 21-23, 2013 at the Walter E. Washington Convention Center in Washington, DC.
---
About Cummings Engineering
Cummings Engineering is a premier provider of secure communication and is recognized for rapid development of innovation and digital security without compromise.  Its solutions have received the highest level of trust within the military ranks and address the needs of commercial applications.  SAIFE's ability to secure communication with already existing devices, networks, and infrastructures, provides customers with the industry's most robust software-only solution that is scalable, easy to use and trusted.  Cummings Engineering is a privately held organization headquartered in Chandler, Arizona.  For more information about SAIFE, visit us online at http://www.saifeinc.com.
About PDT
Product Development Technologies, Inc. (PDT) is a global, full-service product development firm with over 125 employees in eight offices worldwide. Team members have expertise in a wide range of product development disciplines, including strategy, design research, industrial design, user experience interface development, electrical and mechanical engineering and software development, laser scanning, and tooling. PDT's award winning product designs have been recognized by BusinessWeek, as well as the Industrial Designers Society of America, Design Journal, The Consumer Electronics Association, Inc. Magazine, Chicago Athenaeum of Architecture & Design, and Parametric Technologies Corporation. http://www.pdt.com