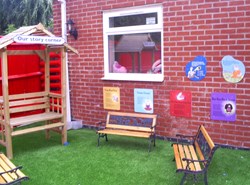 We want to draw attention to the importance of useful and engaging outdoor areas that encourage both play and learning.
London (PRWEB UK) 1 November 2013
According to the 2008 survey by Learning Through Landscapes*, investing in the outdoor setting of a school can bring a reported 65% improvement in attitude to learning, over 70% improvement in behaviour, 64% reduction in bullying, over 80% improvement in social interaction and increase in healthy, active play.
Schools across the country are already benefiting from such initiatives. In a recent installation at Priesthills Nursery in Hinckley, Leicestershire the nursery staff worked with Playground Basics to create a bright and fun outdoor play environment for the children to enjoy.
"The signs have received positive feedback from the parents and the local community. They have really brightened up our outdoor space!" commented Sarah Pane, Priesthills Nursery Manager.
Playground Basics is committed to play as well as learning, and in fact one of its most popular ranges is numeracy-themed products. Featuring shapes, character designs and line graphics, the charts help children develop numeracy skills through play.
"The kids love the 'busy builder' and 'magical fairy' counting lines. The number signs not only encourage learning in the playground but the kids have also interacted with the fun illustrations during dress-up time", says Mrs Walker, the manager of The Little House Day Nursery in Loughborough.
Chantal Onur, the brand manager for Playground Basics is proud of the fact that they are able to offer such a wide range of signs and graphics to suit any school or nursery's outdoor setting.
"We want to draw attention to the importance of useful and engaging outdoor areas that encourage both play and learning, and show the love and care that every school and nursery has for their own area, regardless of their budget", says Chantal.
With its new winter catalogue launching in November, Playground Basics will run a Facebook competition to encourage primary schools and nurseries to share their stories by posting pictures and a short description about what makes their outdoor space special.
Schools and nurseries looking to share their playground stories can participate by Liking the Playground Basics Facebook Page from November 1 and posting a photo with a 100-word description. The post with the most Likes by 31 December 2013 will win its school or nursery the £100 voucher.
Notes to the Editor
Playground Basics specialises in creating high quality and long lasting outdoor signs and graphics (through innovative designs and the latest digital technology) for schools that support the national curriculum while making learning fun. Established in 2004, and part of the Demco Europe family of brands, they are the market leaders of outdoor products, supplying to schools and nurseries in the UK.
*Figures taken from "Survey of schools who had improved their grounds" Learning through landscapes, 2008.