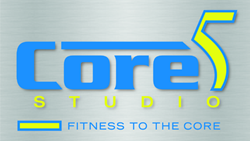 Our goal is to provide the highest quality service and value for our clients. Every time you walk through our doors, our team will see to it that you have all the help you need, and that you are never alone in your fitness journey
Brandon, Florida (PRWEB) November 01, 2013
A motto heard often around the spa-like facilities at Core 5 Studio in Brandon is, "just show up and we'll take care of the rest." For the trainers and managers at Core 5 Studio, it's a sentiment that reflects the higher expectations of clients they've become accustomed to, and demonstrates their commitment to meet those high expectations with a smile in their new full-service training center.
American fitness enthusiasts today are looking for a more personal experience. According to a survey conducted by the American College of Sports Medicine, and aimed at gathering the top ten fitness trends for 2013, the number one trend showed people want more experienced, educated and certified personal trainers.
"Our goal is to provide the highest quality service and value for our clients. Every time you walk through our doors, our team will see to it that you have all the help you need, and that you are never alone in your fitness journey," stated Drew Preiss, head certified personal trainer at Core 5 Studio in Brandon. "You will get the best workout possible with the best personal and group training staff in the region."
For Core 5 Studio clients, this begins with a unique assessment program to prepare them for their own customized workout program, centered on five "CORE" fundamentals of fitness: Cardio, Resistance, Flexibility, Nutrition and Support. This one-of-a-kind, holistic approach allows the certified personal trainers to ensure that every member receives a training program that is tailored to the individual's needs and wants.
During the more than 190 classes offered, including Spin, Ballet Barre, Zumba, Yoga and Hot Yoga, and Ultimate CORE Workout, the certified personal trainers and group fitness instructors are on hand to provide an unprecedented level of personal attention and motivational support unlike any other gym. Heart rate monitors are provided to every member to ensure the most effective results for each individual, based on Core 5 Studio's customized workout programs.
"Working out does not have to be dismal", added Preiss. "It's all about each individual's journey through fitness, and making the experience enjoyable, one of a kind, and supportive every time. That is why our members never work out alone, and always have the support of one of our trainers, and the entire Core 5 Studio family.
In addition, weekly seminars by a licensed nutritionist educate clients about the relationship between nutrition and fitness. Core 5 Studio also features new advances in workout equipment. Innovative spin bikes move side-to-side like a real bike, engaging core muscles effectively. Curved and self-propelled treadmills engage natural running muscles, which no other treadmill has done. And in a quest to eliminate every excuse and give members every excuse to show up, Core 5 Studio offers free child care.
Core 5 Studio is currently offering a "14 Day Challenge" for people to try the Brandon, Florida location. The program includes unlimited access to the facility, classes, seminars and child care. Complimentary fitness assessments will be provided by one of Core 5's certified personal trainers, with absolutely no obligation or pressure to join.
About Core5 Studio
Core5 Studio specializes in balancing 5 CORE fundamentals of fitness—Cardio, Resistance, Flexibility, Nutrition and Support—based on clients' specific goals, regardless of time or budget. We incorporate activities from our state-of-the art facility into personalized programs for long-term success. Certified personal trainers are available at all times and are a part of every workout to ensure safe and effective progress. Core5 Studio is defined by attention to client motivation, accountability, structure and knowledge. For more information please visit http://www.core5studio.com.