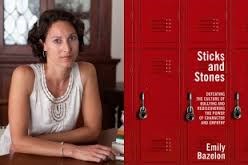 Bullying isn't new. But our attempts to respond to it are.
New York, NY (PRWEB) October 24, 2013
Every October - Domestic Violence Awareness Month - the Center Against Domestic Violence hosts a breakfast at the Harvard Club in New York City where participants meet and hear from leaders in the field. Friday, October 18, 100 guests met with Emily Bazelon, Slate Senior Editor and author of Sticks and Stones: Defeating the Culture of Bullying and Rediscovering the Power of Character and Empathy. Ms. Bazelon shared her thoughts with Dr. Liz Lasky, a coordinator of the Center's Relationship Abuse Prevention Program - RAPP - and a noted expert on bullying.
Ms. Bazelon and Dr. Lasky explored teen bullying, what it is and what it isn't, and how the rise of the Internet and social media make the experience more challenging. They discussed successful anti-bullying measures. Ms. Bazelon, a lawyer who is a Senior Research Scholar and Truman Capote Fellow for Creative Writing and Law at Yale Law School, reviewed jurisprudence on bullying, and examined both the virtues and the pitfalls of treating bullying as a crime. The experts and the audience talked about what parents and schools can achieve.
Devon Arnold, a junior at Manhattan Theatre Lab High School and an active member of the Relationship Abuse Prevention Program, at his school. Devon spoke about how RAPP helped him overcome a lifetime of bullying and regain his self-esteem. Two RAPP alumnae received the Deborah M. Stuckey Scholarship, a scholarship established by the Stuckey family to help teens who benefited from the Center's services go on to higher education. Amber Perez, now a junior at City College, talked about the support she received from RAPP to become her school's valedictorian even though her family was homeless. Andrea Cruz, a freshman at Kingsborough Community College, told how RAPP helped her leave an abusive relationship and stay in school.
For more than thirty five years, the Center has been working toward a society free from violence by transforming the lives of victims and raising awareness in our communities. The Center opened the first publicly-funded shelter in New York State and now operates three full-service shelters for victims and their children, offering childcare, job assistance, housing placement, counseling and other crucial services. Our groundbreaking education programs teach more than 27,000 young people each year how to prevent domestic violence and have healthy relationships. The Center provides ongoing support for shelter residents, victim advocacy, and community outreach to eliminate domestic violence.