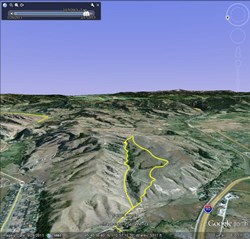 Chinese stuff has a high failure rate, so I am happy that Suunto held the production of this watch in house because it is higher quality
Bozeman, MT (PRWEB) October 24, 2013
Suunto Ambit 2 GPS fitness watches are on sale at the Heart Rate Watch Company for up to 25% off but only for a little over another week until November 4th.
"It's the best time of the year to get a Suunto Ambit 2 because prices will be going back up after November 4th," says Rusty Squire, President of the Heart Rate Watch Company. He adds, "Save up to $90 and 25% on a Suunto Ambit 2S or Ambit 2 of your choice, right now."
THE SALE IS NOW, NOT DURING THE HOLIDAYS
Suunto Ambit 2 was voted the best overall GPS fitness watch of the year by the testers at the Heart Rate Watch Company. "This watch does literally every outdoor sport well and with thousands of apps for everything from weather to sailing it is more than just a fitness watch," says Squire.
"Suunto decided to conduct a sale well ahead of the usual Holiday season and prices go back up on November 4th," says Squire. He adds, "If you want a great deal on the Suunto Ambit 2 then right now, in the next week, is the time to buy."
MADE IN FINLAND
Unlike most heart rate monitors and fitness electronics, Suunto Ambit 2 is not made in China, it is made in Finland. "Chinese stuff has a high failure rate, so I am happy that Suunto held the production of this watch in house because it is higher quality," says Squire.
TWO YEAR WARRANTY
"We like the fact that European products companies have a two year warranty because most US manufacturers like Garmin do one year and that is not long enough," says Squire.
SUUNTO AMBIT 2 VERSUS 2S DECISION
"The Suunto Ambit 2 has a barometric altimeter and longer battery life than the 2S," says Squire. He adds, "If 6 1/2 hours of battery at one second recording intervals is enough and you don't need accurate altitudes then its over $100 cheaper."
Both watches also have a recent firmware update that enables 5 second recording intervals to greatly extend battery life, plus added trackback navigation. "Suunto does a great job with adding features like sunrise/sunset and the new recording intervals, plus with over 1,000 user apps its a vibrant community", says Squire.
"I've used both watches and I like the Ambit 2 better than the 2S for skiing, mountaineering and serious outdoor adventure," says Squire. He adds, "I also use a 2S as my daily watch for cycling, hiking and day-to-day use, so I like them both for different reasons."
TALK TO A REAL EXPERT
If you'd like to talk to Rusty directly about the Suunto Ambit 2 then just call the Heart Rate Watch Company at 866-586-7129. "I answer the phone because I want our customers talking to the person in the company that is the best versed on products and that's me," says Squire.