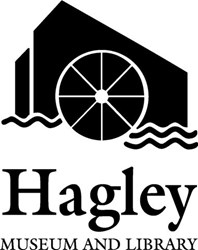 Wilmington, DE (PRWEB) October 23, 2013
Visit Hagley on Thanksgiving weekend and discover an abundance of 19th-century family traditions. Enjoy small samples of a traditional 19th-century Thanksgiving meal in the Gibbons House prepared onsite by the Belin House Organic Café and learn from Hagley's interpreters the challenges of cooking with a wood stove. In the Gibbons' House parlor, discover 19th century life by letting your kids play dress-up with period clothing. Don't forget your camera for this year's holiday photo. Try writing what you are most thankful for with a quill pen in the 19th-century Brandywine Manufacturers' Sunday School.
These activities will be held at Hagley Museum and Library Thanksgiving weekend, noon to 4:00 p.m. Friday, November, 29; Saturday, November 30, and Sunday, Dec. 1. Use Hagley's main entrance off Route 141 in Wilmington, Delaware.
There are so many ways to enjoy Hagley on Thanksgiving weekend, or anytime. Whether visiting the DuPont company founder's first residence, overlooking the most beautiful mile of the Brandywine River or the historic Roll Mills, Steam Engine, and Machine Shop in the historic Powder Yard, or the exhibits and collections in the Hagley Museum and Library, this National Historic Landmark has something for everyone.
Hagley Museum and Library
At Hagley, we invite people of all ages to investigate and experience the unfolding history of American business, technology, and innovation, and its impact on the world, from our home at the historic DuPont powder yards on the banks of the Brandywine. For more information about Hagley's special events and programs, visit http://www.hagley.org or follow us on Hagley's Facebook and Twitter.
Hagley is located on Route 141 in Wilmington, Delaware. The museum GPS address is 200 Hagley Road, Wilmington, Delaware. Admission to the entire 235-acre museum is $14 for adults, $10 for students and senior citizens, $5 for children six to fourteen, and free for children five and under. For more information, call (302) 658-2400 weekdays or visit http://www.hagley.org.
# # #