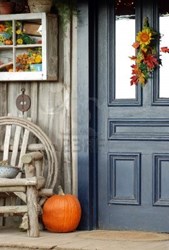 Matawan, NJ (PRWEB) October 25, 2013
Fall is a lovely time of year bringing in fresh fruit and vegetables, warm days, crisp nights and beautiful colors. Unfortunately, there is a downside to fall. Once it comes around, you know that winter is not far away. While you are enjoying the fall, you should start thinking about getting ready for winter. Below are some suggestions for getting your home ready for the cold winter winds.
Heating System:

Have a qualified technician come out to the house to tune up your furnace and heating system. This way, when the cold air hits, your furnace will respond.
Top off your propane and oil tanks so you won't run short.
If you have a fireplace, have the chimney cleaned out and checked including the screen up top. This way, you won't have to worry about an accidental fire happening.
Make sure you have plenty of filters for your furnace so you can change them regularly. Having a clean filter will keep your home dust free the entire winter.
Caulking, Weather Stripping and Cracks:
Check all the caulking around your windows and doors. Caulking should seal any cracks around the walls of your home. Over time, caulk wears out and won't seal properly. If you notice your caulking has dried out, fall is the time to replace it with new caulk.
Check the weather-stripping on door sweeps and windows. If any are worn, broken or cracked, replace them.
Replacing your weather-stripping and caulking will cut down on winter drafts and keeps critters out of your house. Since a mouse can get in through a tiny crack, if you see cracks, stuff steel wool inside the gap before you cover it with caulk. Mice can't chew through the steel wool.
Outside and Gardens:
Fall is the time of year to seed your lawn. If you don't want to spread seed, spread out some fall fertilizer. Your grass will thank you in the spring.
Trim your shrubs and trees, and put mulch out in the gardens so perennials get plenty of water.
Check your driveway for cracks that might have developed in the summer months. Fix them now before water gets into them and freezes in the winter. This will make the cracks bigger.
Fall is the best time to clean the garage out. Your garage becomes a storage shed in the summer, but during winter, you will want to store your car there.
Put your patio and garden furniture inside or cover it up with a tarp.
Last but not least, turn off the water supply to your outside water taps and drain all the hoses. Water left inside the pipes can freeze and burst causing a mess next spring.
By following some of the tips above, your home should be warm and comfortable all winter long. If you get an early start and spread these jobs out, you will enjoy the nice fall weather making sure the house is prepared for winter.
About Stone Creek Builders
The founder of Stone Creek Builders has been a leading provider of building, remodeling and restoration services for over 20 years. Stone Creek Builders provides general contracting, remodeling, insurance restoration, house lifting, and storm reconstruction services to clients in central and shore regions of New Jersey. Contact us at (732) 566-0395 or visit our website at http://www.stonecreekbldrs.com for more information.