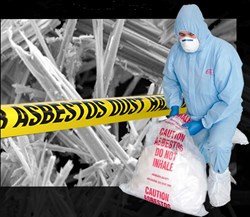 Romag Ltd needlessly put at risk the health of nearly 200 people because they failed to identify the presence of asbestos before any work started.
Bolton, UK (PRWEB UK) 30 October 2013
The glass firm was prosecuted by Consett Magistrates' Court (Case Reference T20130264) on Monday 14th October, after the Health and Safety Executive identified several asbestos failings.
According to the Health and Safety Executive, asbestos was discovered during the installment of fire alarms at the firm's Princess Building, on 12th July 2011. It is believed, that the two subcontractors – who were allegedly told they were operating in asbestos-free premises – drilled through the asbestos insulation, and then used a domestic vacuum cleaner to clean up the dust and debris. (1)
It is alleged that, as a consequence of their actions, asbestos fibres were unwittingly released in several parts of the building, as the workers kept using the vacuum cleaner while installing sensors. (1)
As reported by the HSE, the incident was discovered only the day after, with ROMAG failing to take any proper action for at least nine days, despite the company's health and safety advisor urging them to cordon off and lock down the area, and arrange for an appropriate clean-up and air test. (1)
An investigation by the Health and Safety Executive found that the company's delay in taking action eventually led to 180 workers, and 16 visitors, being put at risk of exposure to potentially lethal asbestos. (1)
Commenting on the news, Tom Fairclough, Executive at Asons Solicitors, said that:
"According to the HSE Press Release, it is alleged, that the two subcontractors who carried out the work had not been warned about the presence of asbestos. As a result, nearly 200 people were at risk of being exposed to a serious health hazard. The exposure to airborne asbestos fibres was entirely preventable, and these circumstances highlight the importance of asbestos surveys.
"Here at Asons, we see many similar cases where safety guidelines and regulations have not been followed. I believe this incident could easily have been avoided, safeguarding the health of the people involved. The unnecessary exposure to asbestos fibres could have been prevented, simply by adhering to basic legal requirements."
"Those who have experienced similar working conditions, or suffer from lung cancer after being exposed to an asbestos-contaminated working environment, should not hesitate to make an asbestos claim."
After the hearing, HSE Inspector Paul Miller said:
"Romag Ltd needlessly put at risk the health of nearly 200 people because they failed to identify the presence of asbestos before any work started and then compounded the failing by not acting quickly to clean the area properly.
"Any company that intends to do work to the fabric of a property built prior to the year 2000 must ensure that they have taken all reasonable steps to check whether asbestos is present before any work starts. That information must be then shared with anyone involved in the proposed work."
As reported by the HSE, the North East firm was fined £20,000, and ordered to pay £12,638 in prosecution costs, after pleading guilty to breaching Section 2(1) and Section 3(1) of the Health and Safety at Work etc Act 1974. (1)
Asons Solicitors have a dedicated team of industrial disease specialists dealing with cases of asbestos related diseases, giving people legal advice, particularly in the area of asbestosis claims. Exposure to asbestos can be deadly, and Asons urge anyone who feels they may have been exposed to asbestos fibres to consult their GP immediately for a consultation, and contact an industrial disease specialist for legal representation.
Asons Solicitors suggest, that if someone would like to learn more about the asbestosis compensation process, or if they would like to better understand the condition, that information is available at http://www.asons.co.uk, or via an expert helpline on 01204 521 133
(1) HSE - Firm fined after 200 put at asbestos risk, 14/10/2013 press.hse.gov.uk/2013/firm-fined-after-200-put-at-asbestos-risk/
ENDS
About Asons Solicitors:
Asons Solicitors is a Bolton-based law practice that specialises in personal injury and industrial disease claims. Founded by brothers Imran Akram and Kamran Akram, Asons Solicitors has developed to become a young and dynamic law firm that delivers practical solutions to clients in times of difficulty. Their continued focus on their staff has seen them awarded with the Investors in People "Gold Award"; which is reflected in the professional and personable approach they take in working with clients. They strive to grow and to develop, and their supportiveness and attention to detail ensures that their clients use them time and again.
For further information contact:
Email: info(at)asons(dot)co.uk
Website: http://www.asons.co.uk