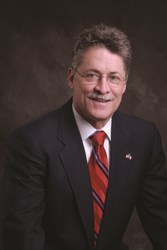 Kevin knows mortgages and he knows how to quickly assess whether or not a particular product is the right match for his client.
New City, NY (PRWEB) October 24, 2013
Dan Rand of Hudson United Mortgage announced today that Kevin F. X. Kearsey, an experienced NY and NJ Licensed Mortgage Originator, has joined the New City office as their new Director of Sales. Kearsey has been hired to grow their business in New York and New Jersey mortgage origination. Hudson United Mortgage is the residential and commercial lending division of Hudson United Mortgage, Title and Insurance.
"We are so happy to announce that Kevin Kearsey has joined our team," said Rand. "Kevin is extremely well-liked and respected as a mortgage expert in the communities that he serves."
"There are so many different mortgage products available today, but it has become increasingly difficult to know which one if the exact "right fit" for the right borrower. That's where experience comes into play. Kevin knows mortgages and he knows how to quickly assess whether or not a particular product is the right match for his client," explains Rand. "It might not sound like a lot, but in the home buying world, that could be the difference between being able to afford your new home and being a slave to it."
Kearsey has a 13 year history as a mortgage originator. Most recently, Kearsey was a top producer at Wells Fargo in NJ. Before that, he owned and operated Montvale Mortgage in NJ, where he managed a large team of successful loan officers.
"Hudson United Mortgage does a great job for our clients and realtors; we close most of our loans in 30 days or less," says Kearsey. "I am very excited to be a key member of the management team and will use my experience to foster steady growth."
Kearsey currently resides in Tuxedo Park NY, where he lives with his wife Margaret Kearsey. The two have two adult children and one grandchild. Kearsey is active personally and professionally in his community and is a member of The Alliance for Senior Services (TASS) and LeTip of Bergen County.
Kearsey can be reached at (201) 739-4174 or via email at kevin.kearsey(at)hudsonunited(dot)com.
About Hudson United Mortgage, Title and Insurance Services
Hudson United brings the mortgage, title, and home insurance process all together in one location giving its clients maximum control of their real estate transaction. All of the moving parts of the real estate transaction take place under one roof. The result is a more cost effective, and simplified process. Hudson Abstract Services Professional, LLC issues title insurance policies as an agent for Title Resources Guaranty Company and The Security Title Guarantee Corporation of Baltimore. Their responsibilities include conducting the searches that determine whether a property is properly insurable, including performing comprehensive searches of county records to trace titles to properties and check for existing code violations. Hudson United Mortgage LLC is a full service mortgage brokerage, with total flexibility to place loans with over 15 banks. Hudson Group Insurance Agency helps clients find the best possible insurance for their situation by having the ability to issue policies from over 20 different insurance companies. All three divisions can be found at http://www.HudsonUnited.com.