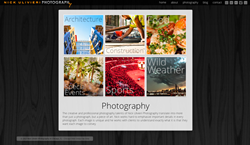 We are proud to work with such an inspiring photographer. Using both of our creative backgrounds to produce an award winning website has been such a fun opportunity.
Chicago, IL (PRWEB) October 23, 2013
Idea Marketing Group wins Design Firm's Web Design Award for April of 2013. Idea built a website for Chicago based Nick Ulivieri Photography from the ground up featuring breathtaking images shot by Nick. This Chicago web design firm uses creativity and their extensive experience in designing websites that showcase their clients.
Not always aspiring to be a photographer, Nick Ulivieri's career had started down a different path. Graduating with a marketing degree from Bradley University, Nick entered the workforce when he joined a Chicago based advertising agency. Understanding the impact that branding and design have on companies, Nick decided to take a more hands on approach in helping his clients. Transitioning his career from boardroom marketer to on-the-go photographer, Nick Ulivieri Photography was established. Nick has continued to pursue his passion while still helping clients establish their identities and enhance brands, creating a successful transition to professional photographer.
Nick Ulivieri specializes in commercial, fine art, architecture and construction photography, as well as food, special events, wild weather and sports photography. Nick recruited the creative talents of Idea Marketing Group to build his photography website, which identifies his brand, just as he does for his clients.
Idea built the award winning photography website design in Wordpress, allowing him to keep it active and give him an outlet to display his visually stunning work. Idea accentuates and features his photography with a custom Pinterest style, masonry layout photo gallery as each of his industry specialties are easily accessible. The social media component of the site allows for blog comments to be auto-posted to Facebook, gaining more social clout through multiple media platforms.
Idea Marketing Group is a uniquely creative web design and marketing firm located just west of Chicago in Plainfield. Comprised of specialists in each aspect of the design process, Idea ensures the design, build and reach of each website are impeccable. Idea excels in search engine optimization (SEO) giving their clients a 'leg-up' on the competition in online rankings in places such as Google and Yahoo. SEO provides the opportunity for websites to reach thousands of additional people through keyword searches. Websites built by Idea perform great in search engine results which translate into more leads and ultimately increased sales.
Idea Marketing Group built a website that skillfully showcases Nick Ulivieri Photography and landed itself Design Firm's Web Design Award for April of 2013.