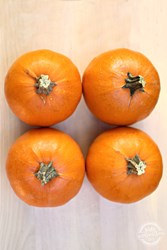 Fun cool Halloween projects do not have to cost a lot of money.
Dallas, TX (PRWEB) October 29, 2013
What to do with the little pumpkins the kids picked up at the patch? Kids Activities Blog has released a fun little pumpkin craft and lots of Halloween sensory activities perfect for fall fun.
The little pumpkins, just like they are, make great table decorations. What about turning them into something even better? Before they rot away on the table or kitchen counter consider turning them into cute little jack-o-lanterns.
Simply cut off the lid and scrape the inside of the pumpkin clean with a spoon. On a sheet of parchment paper, trace the just cut off pumpkin lid. Draw a spider web onto the circle on the parchment paper with the hot glue gun. Use the hot glue gun with caution especially around the kids. Let it completely cool down.
Add a battery operated powered faux candle inside the pumpkin and place the spider web as a lid on the top of the pumpkin.
The Halloween sensory activities can be easily done with items found around the house. Making a Halloween sensory bin with orange rice and Halloween googley eyes, fake spiders, sticks and lots of glitter is easy. Simply follow the instructions listed on Kids Activities Blog.
Another great idea is making a witches brew sensory bin that the kids can stir up with sticks and spoons. Creating a miniature pumpkin patch outside with hay, dirt, a tractor, mini pumpkins, and other farm equipment will be a blast for the kids.
For detailed instructions and to get additional fun Halloween ideas, check out Kids Activities Blog this week. Come get inspired to this Halloween doing activities that sneak in a bit of learning.
About Kids Activities Blog
Kids Activities Blog is a website created by two moms (who collectively have 9 children), Rachel Miller and Holly Homer from June Cleaver Nirvana. It is their daily goal to inspire parents and teachers to play with kids. This interactive website publishes simple things to do with kids twice a day. Kids Activities Blog is a great tool for moms and teachers to find kid-friendly activities that create memories and sneak learning into the fun.