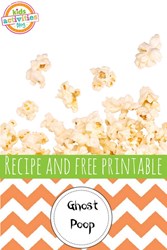 The shear mention of making ghost poop this fall will make the kids giggle and laugh.
Dallas, TX (PRWEB) October 25, 2013
Ready to make ghost poop this Halloween? A fun Halloween printable to make ghost poop and over 8 Halloween sensory play ideas have been released on Kids Activities Blog. Seasoned moms are sharing their kids favorite activities this fall.
The fun Halloween printable ghost poop is a great project to do together with the kids. The sheer mention of making ghost poop will make the kids giggle and laugh. It will grab their attention as well. Making popcorn is always fascinating for kids.
Materials needed are popcorn that has been popped, white melted chocolate, plastic baggies, the printable, and a stapler. Follow the instructions on Kids Activities Blog to complete the art project. The kids will love to make this eatable popcorn project perfect for some silly Halloween time. It makes for great pretend playtime, too.
Sensory play is important for kids. The sensory play activities can be easily done with items found around the house. Making a Halloween sensory bin with orange rice and Halloween googley eyes, fake spiders, sticks and lots of glitter is easy. Simply follow the instructions listed on Kids Activities Blog.
Another great idea is making a witches brew sensory bin that the kids can stir up with sticks and spoons. Creating a miniature pumpkin patch outside with hay, dirt, a tractor, mini pumpkins, and other farm equipment will be a blast for the kids.
For detailed instructions and to get additional fun Halloween tips, check out Kids Activities Blog this week. Come get inspired to have a blast with the kids this Halloween.
About Kids Activities Blog
Kids Activities Blog is a website created by two moms (who collectively have 9 children), Rachel Miller and Holly Homer from June Cleaver Nirvana. It is their daily goal to inspire parents and teachers to play with kids. This interactive website publishes simple things to do with kids twice a day. Kids Activities Blog is a great tool for moms and teachers to find kid-friendly activities that create memories and sneak learning into the fun.