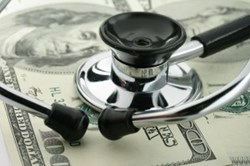 Employers in the retail or hospitality industries who don't currently offer health benefits to a large number of employees will have to make some important strategic decisions.
New York, NY (PRWEB) October 25, 2013
While there's no doubt that the Patient Protection and Affordable Care Act expands access to health-care insurance coverage for millions of Americans who can't obtain insurance right now, there's still considerable debate about the affordability of that coverage—both for individuals and companies offering health-care insurance benefits to their employees.
A Bloomberg News article highlights issues related to the individual mandate that requires virtually all Americans to have health insurance by 2014.
For instance, the law provides for those at the lowest rung of the income ladder—earning less than 133 percent of the poverty-level income—to obtain coverage through Medicaid. The catch: The Supreme Court ruled that the federal government cannot compel states to expand their Medicaid program, so whether an individual has access to this source of coverage will depend on where they live.
And while tax subsidies will be available to assist lower-income individuals purchasing coverage on the state health-insurance exchanges, the Congressional Budget Office projects that those subsidies will not be available to about five million of the 30 million people who currently are uninsured. Preliminary estimates developed by the Kaiser Family Foundation indicate that a single 40-year-old earning $30,000 could pay over $5,500 a year in premiums and out-of-pocket expenses.
On top of this, if the cost exceeds eight percent of household income, an individual is not required to purchase insurance, and anyone can choose to pay a penalty–$695 or 2.5 percent of income, whichever is greater—rather than buy insurance.
A Daunting Task for Employers
For employers who are required to offer a health-care benefit plan to employees—any company or organization with 50 or more full-time equivalent workers—sorting through the provisions of the law and determining the appropriate course, from both a cost and employee-relations perspective, is a daunting task.
Mark Holloway, Lockton senior VP and director of compliance services, works with our Lockton clients to help them evaluate the possible choices—and make sure they are meeting their obligations under the law. Administrative rulings on how the law will be implemented are just now starting to be issued by federal agencies, and Holloway recently distributed an informative alert that reviews some of the recent guidance received from HHS related to employer-based health-insurance plans.
"For some employers—those who currently offer a robust health benefit plan to all employees, for instance—there may not be any great changes," says Holloway. "It may be more a case of making sure that the current plan meets the criteria established for being 'qualified and affordable' and is administered properly.
"But for others—in the retail or hospitality industries, for example—who do not currently offer health benefits to a large number of employees, there will be some important strategic decisions to make," he adds.
Qualified and Affordable
To be deemed "qualified and affordable," an employer health-care plan's share of the total allowed costs of benefits provided under the plan must be at least 60 percent of such costs, and the employee's premium contribution can't be more than 9.5 percent of his W-2 pay for single coverage. If an employer plan does not meet these criteria, and a full-time employee chooses to purchase taxpayer-subsidized coverage on the health-insurance exchange, the employer will pay a penalty of $3,000 per employee. If the employer does not offer a plan at all, the penalty is $2,000 per employee.
"We don't think many employers currently offering a plan will make the decision to send their employees to the exchange instead," says Holloway. "Health-care coverage is a highly valued employee benefit that can affect a company's ability to attract and retain quality talent, and contributes to employee productivity and motivation.
"But employers who now must decide if they should redesign their plan, or extend coverage to a large group of employees—those companies may need to weigh the alternatives and trade-offs."
Tool to Help Companies Calculate Cost Impact
Lockton's Health Reform Advisory Practice has developed an actuarial model that can help clients evaluate the cost impacts of adopting various scenarios. "We can take a client's current employee demographic data and the information on the cost and coverage levels of the current plan, and then run the numbers to show how the situation compares if the plan is discontinued, if it continues as is, if coverage is expanded to more employees, or if the plan is changed in some way."
"There are still a lot of unanswered questions—both for individuals and companies—regarding the details of how the Affordable Care Act will be implemented," says Holloway. "But this train has left the station, and 2014 will be here in an eye-blink, so it's important for everyone to start making critical decisions and putting the systems in place to make this work."
Click Here to receive free blog updates from RobRuotolo.com, a workforce benefits blog for HR Decision-makers. Download a free white paper on Using HR Technology to Ensure ACA Compliance: Enter your email into the opt-in email subscribe box—your information will never be shared with third parties.