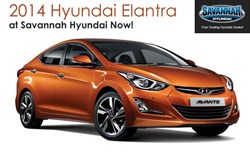 '2014 Car to Drive!' - Mark Medinger, Savannah Hyundai
Savannah, GA (PRWEB) October 25, 2013
It's that time of year again when many of the 2014 new models are coming into the Hyundai showrooms across the country. But there's real, tangible excitement around the 2014 Hyundai Elantra. Savannah Hyundai's owner Mark Medinger says, "The changes in the 2014 Elantra have moved it from being a compact car to now a midsize sedan. It has more room and a new power source that has loyal Hyundai fans buzzing!"
Hyundai's kept the popular "fluid sculpture" design in this year's models that considers the interplay of wind with rigid surfaces to create the illusion of constant motion. One of the biggest changes for the 2014 Elantra the well-received new Gasoline Direct Injection (GDI) engine. Both the Hyundai Sonata and Santa Fe models had these new engines last year. The GDI technology gives drivers better mileage and greater power to the wheel. The GDI engine is slowly becoming more popular in the auto industry. It burns fuel more efficiently because the gasoline bypasses the typical route in a standard engine and goes straight to the combustion chamber.
"Another welcomed upgrade is the Elantra's interior volume that is so much bigger than that of other compact sedans," says Savannah Hyundai owner Mark Medinger. For the 2014 model, Hyundai's added both head room for all passengers as well as leg room for all 5 seats in the sedan.
Hyundai has also added new sportier models to the Elantra line this year with a coupe and GT hatchback body styles. "The coupe is smooth, comfortable and quiet at all speeds," says caranddriver.com magazine.
When compared to the Toyota Corolla, the 2014 Hyundai Elantra offers more standard horsepower at 148 and more fuel efficiency with an average 38 miles per gallon.
Other new features include heated exterior mirrors, alloy versus steel wheels, new front and rear fascias, higher quality bumpers, profited head lamps and new fog lights.
"The 2014 is awesome and we know it's going to do well on the floor but don't forget we still have the Award Winning 2013 Elantra on sale," said Medinger
The 2013 Hyundai Elantra has been honored by a number of industry authorities. In one of the most rigorous tests of vehicle safety, the 2013 Hyundai Elantra sedan earned the Insurance Institute for Highway Safety's (IIHS) Top Safety Pick. The Elantra has also received the Residual Value Award by the auto-leasing authority ALG.
It's a win, win for Savannah Hyundai as the 2013 Hyundai Elantra is now on sale for year-end clearance and the 2014 will soon be gracing the Showroom