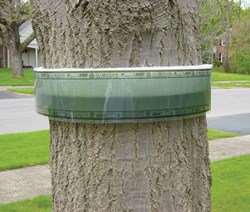 Victor, NY (PRWEB) October 25, 2013
After watching caterpillars feast on valuable trees all summer, now is the time to prevent them from returning next summer, without resorting to pesticides. Banding trees this fall with the BugBarrier Tree Band ® will prevent the egg-laden female cankerworms and winter moth from climbing the trees to start the next generation.
The BugBarrier Tree Band is a pesticide-free, adhesive banding system. Its dense, flexible fiber barrier fills bark crevices. The adhesive film barrier is then installed over the fiber, with the adhesive side facing the tree. This unique design eliminates unsightly debris that insects turn into bridges, and keeps insect carcasses out of sight. Best of all it can be installed in less than five minutes.
This revolutionary band is clean, easy to install and remove, and contains no chemical pesticides or pheromones. University researchers, government entomologists and arborists in the field have tested it, and have been using the band successfully for more than 10 years. It is so effective that it is required to be EPA registered as a "mechanical pesticide."
The BugBarrier Tree Band should be applied prior to increased activity up and down the trunk and removed once activity has ended. To trap the fall cankerworms or winter moths, trees should be banded just before the first hard frost. That is when the adult moths emerge from pupation, mate, and the wingless, flightless females begin climbing the tree to deposit their eggs on tiny branches.
For product information and a list of distributors, visit http://www.treebands.com.