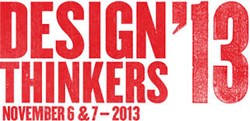 If your claim to fame is the ability to pick Garamond out of a crowd, then you may have the wits to win the DesignThinkers Type Quiz.
Woburn, MA (PRWEB) October 24, 2013
Monotype will be presenting at DesignThinkers Conference 2013 – Canada's largest conference for visual communicators. Each year DesignThinkers creates a program to inspire creative change agents to drive innovation within their organizations. This year, Allan Haley, Monotype's director of words and letters, will host "Design Thinkers Type Quiz" as part of the conference, which will be held Nov. 5-8 in Toronto at the Metro Toronto Convention Centre.
Allan will try to stump – and educate – audience members on the finer points of typography. The DesignThinkers Type Quiz will pose a series of questions about type, type history and the typographic arts. Winners that know the right answer – and are quicker to give it than those around them – will win prizes such as t-shirts, typographic baseball caps, fonts, books on type and posters.
There's a series of questions for those that don't care that 5-point type was once called "pearl," along with a "varsity" section with harder questions and bigger prizes.
Wednesday, Nov. 6, 2013 – 12:15 PM
Join Monotype's Allan Haley at DesignThinkers 2013 to talk about fonts and typography, and share typographic items of interest. For more information about the DesignThinkers 2013 Conference program, visit: designthinkers.com.
About Monotype
Monotype is a leading global provider of typefaces, technology and expertise that enable the best user experience and ensure brand integrity. Based in Woburn, Mass., Monotype provides customers worldwide with typeface solutions for a broad range of creative applications and consumer devices. The company's libraries and e-commerce sites are home to many of the most widely used typefaces – including the Helvetica®, Frutiger® and Univers® families – as well as the next generation of type designs. Further information is available at http://www.monotype.com.
Monotype, Helvetica and Frutiger are trademarks of Monotype Imaging Inc. registered in the U.S. Patent and Trademark Office and may be registered in certain jurisdictions. Univers is a trademark of Monotype GmbH registered in the U.S. Patent and Trademark Office and may be registered in certain jurisdictions. All other trademarks are the property of their respective owners. ©2013 Monotype Imaging Holdings Inc. All rights reserved.