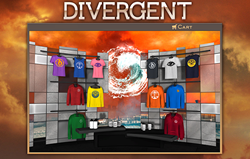 Hillside, NJ (PRWEB) October 23, 2013
On the heels of the highly anticipated third title in the best-selling dystopian trilogy by author Veronica Roth, ALLEGIANT, entertainment conglomerate NECA today announced the expansion of the online shopping experience at Mock.com to feature DIVERGENT, offering fans and readers the chance to create customizable branded merchandise.
Accessible via the web, fans worldwide now have the opportunity to personalize a variety of merchandise including t-shirts, sweatshirts, mugs, and more with their favorite slogans and logos and from the series.
To coincide with the launch, NECA is running a special offer for one week only. This special offer grants free standard shipping to all shoppers who make a purchase between now and October 31 by entering the code FREESHIP at checkout.
For more information, visit http://www.mock.com.
Launched in the summer of 2013, Mock.com introduces a new online shopping experience, inviting shoppers to browse a 3D store front with full customization capability to design their very own memorabilia and apparel featuring their favorite brands.
About NECA
National Entertainment Collectibles Association Inc. is a media and entertainment company operating in the United States and internationally, with three segments: Consumer Products, Filmed Entertainment and Online Retail/Digital Distribution. NECA is the leading designer, marketer, and worldwide distributor of licensed entertainment consumer goods based on some of the world's most established and beloved properties, providing products across all consumer categories and distribution channels. Together, NECA's divisions provide a comprehensive, end-to-end solution to elevate each property, maximizing exposure and reach, while protecting the vision of the creator. As a result of NECA's singular passion and reverence for the intellectual property backing its products, some of this generation's most recognized content creators enjoy working with NECA, allowing us to help bring their vision to their audience. For additional information, visit http://www.necaonline.com.