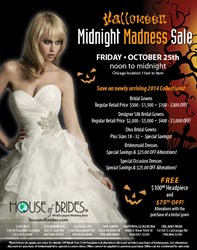 Glen Ellyn, IL (PRWEB) October 23, 2013
House of Brides began scheduling appointments immediately after the sale's announcement on Monday. The salons can accommodate several appointments per hour but stated some times slots are at capacity.
The incredible savings and offers on wedding and special event apparel are driving customers to the event.
Savings include bridal gowns, originally priced $500 to $1,500, on sale for $100 to $300 off retail prices. Designer silk wedding dresses, originally $2,000 to $5,000, are on sale $400 to $1,000 off retail prices.
Special savings on diva bridal gowns in plus sizes 18-32 are also offered.
Bridesmaid and special occasion dresses will have special savings during the event. Additional store-wide discounts are also advertised.
The Halloween Midnight Madness Sale features bonus promotions. Customers will receive a free $100 headpiece and $75 off bridal alterations with the purchase of a bridal gown.
Customers purchasing a bridesmaid gown or special occasion dress receive $25.00 off alterations.
The Halloween Midnight Madness Sale is Friday, October 25th at House of Brides' 6 bridal salons.
While appointments are becoming limited, the retailer encourages customers to still call for an appointment. Salons will assist as many customers as possible.
For appointments, visit houseofbrides.com and click Locations & Hours for salon information. Or view Store Promos to see the Halloween Midnight Madness Sale ad.
About House of Brides:
House of Brides established its first brick-and-mortar store in 1929 and has since grown to 10 Chicagoland stores and global E-Commerce website, houseofbrides.com. Millions of brides and their wedding parties visit the salons and global website for over 50,000 wedding and special event products.