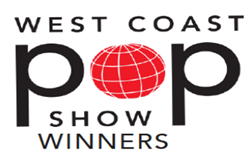 Chicago, Illinois (PRWEB) October 24, 2013
All ballots are in and POPAI's ready to announce the official winners of the 2013 West Coast POP Show. From March September 25-26, 2013, nearly 125 entries vied for awards in 23 categories to see who would be awarded "The Best of the West." The West Coast POP Show is the longest running awards show dedicated to recognizing West Coast-based companies who are transforming the retail landscape, pushing the boundaries, and paving the way for others.
Entries were judged by an esteemed panel of judges comprised of retailers, brand marketers, and producers who based their decisions on the entry's design, innovation, interactivity, and proven ability to lift sales.
The Best Of Awards are already published, so onto the other awards.
Mobiles, Wire Hangers, Ceiling Hangers
First Place: Estee Lauder Mobile by Simply Displays and the Safeway Beer Mobile by Rapid Displays
Second Place:Heineken Mardi Gras Banner by Performance POP
Posters/Banners – Non-Paper Substrate
First Place: CPWM Rusty Sign by The Graphic Source
Shelf Talkers & Decals
First Place:Lanyards - TNF by The Graphic Source
Second Place: CPWM Varietal Wine Signs by The Graphic Source
Third Place: CPWM End Cap Graphics by The Graphic Source
Wine Displays/Permanent
First Place: Don and Sons "Time with Dad" Fish Shack by Packagingarts
Second Place: Francis Coppola Mardi Gras Display by WBS Merchandising and Dona Paula 4 Case Wine Display by WBS Merchandising
Get more information and see the other category winners, here.
About POPAI
Since 1936, POPAI (Point of Purchase Advertising International) has served as the leading international advocate and voice of the marketing at retail industry. We are composed of chapters worldwide and serve more than 1,400 member companies internationally. POPAI promotes, protects and advances the broader interests of the marketing at retail community through original research, certified education, awarding industry excellence, hosting trade forums and protecting intellectual and legislative rights. For more information, go to popai.com.