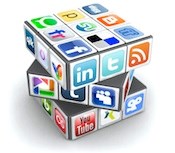 Our study shows that 51% of respondents welcome vendor participation, as opposed to the 29% who felt that way in our 2011 study - Robin Rothrock, Ph.D., Director of Publications
Arlington, VA (PRWEB) October 24, 2013
For suppliers who want to develop a thoughtful social media and email marketing strategy, Digital Marketing to Life Scientists: Social Media and Email Best Practices provides a tactical guide for reaching out to customers online.
Life science suppliers can use this report to inform their strategies for developing online campaigns using email and social media platforms. The report identifies where (and how) scientists spend their time on social media platforms and how they rely on email outreach to inform the buying decision. Rather than trial and error, vendors can use this primary research to structure their online outreach to create actionable results. This best practices guide will help suppliers become a trusted voice in the online conversation, and ultimately inspire scientists to take action.
"One key finding in this study is that scientists are increasingly more receptive to interacting with vendors via social media. Our study shows that 51% of respondents welcome vendor participation, as opposed to the 29% who felt that way in our 2011 study," says Robin Rothrock, Ph.D., Director of Publications at BioInformatics LLC. Dr. Rothrock adds: "If 51% of your customers are open to engaging with you using social media, investing in this report will help you maximize that opportunity."
To learn more about Digital Marketing to Life Scientists: Social Media and Email Best Practices (13-007), a complimentary report brochure is available at:
ABOUT BIOINFORMATICS, LLC
BioInformatics, LLC is the premier research and advisory firm serving the life science industry. By leveraging our professional social network of more than 73,000 life scientists, we have supported more than 500 companies and provided insights that lead to better business decisions. Our assignments include assessing the size and attractiveness of markets, optimizing product configurations and pricing, validating corporate acquisitions, measuring customer loyalty, and evaluating brand strength and positioning.
For more information contact:
Angela Fernandez
Marketing Coordinator
BioInformatics, LLC
2111 Wilson Blvd., Suite 250
Arlington, VA 22201
703.778.3080 x14 (phone)
a.fernandez(at)gene2drug(dot)com
http://www.gene2drug.com/