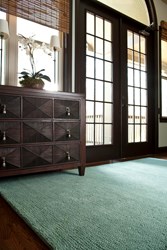 This feature can be extremely helpful in deciding which rug will fit the look and décor of the customer's home.
(PRWEB) October 26, 2013
In today's commercial society, consumers are regularly faced with a plethora of options when choosing a product. Often these large selections and variety of choices can make it difficult to find the single item that would work best for their situation. This problem is made even more difficult when the consumer turns to the internet. Sure, the prices found online are usually less than at physical store locations, but options are multiplied when shopping online.
The customer must now sift through thousands of options when they only need a single product. What makes matters worse is that purchasing through a computer monitor gives the customer no idea about the physical presence of the item. The image of the item may sit on an all-white background with full spot lighting to wash out any details.
E-retailers know that this is a problematic issue and that is why PlushRugs.com has been working to improve the customer experience on their site. PlushRugs.com has implemented a new, intuitive site search to assist prospective customers in narrowing down the thousands of available rugs to a few manageable options.
This new search, developed by PlushRugs.com, speaks the language of rugs. It has been programed with the inventory and the keywords associated with all products. The search bar can also be used in conjunction with the advanced filter system that allows customers to sort items by size range, color, price range, material, weave, you name it.
Another new feature that can help give a customer a real feel for their rugs is the ability to search by close up images and room scene images. These are fantastic for showing the texture of a rug or what the rugs will look like in a fully furnished room with lighting that is more likely to occur within a home. Examples of these searchable photo types are on the homepage. This feature can be extremely helpful in deciding which rug will fit the look and décor of the customer's home.
With these new features and their no tax, free shipping, and 30 day return policy, PlushRugs.com has made it easier than ever for the customer to find exactly what they are looking for.