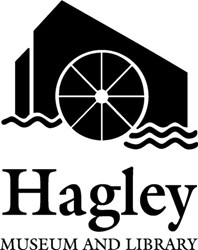 "We call certain practices traditions, but you find that they change all the time," Dr. Erik Rau, director of library services
Wilmington, Del. (PRWEB) October 28, 2013
In the full holiday spirit and tradition of its founders, Hagley Museum and Library will open its doors wider this year with new holiday evening tours for visitors on December 12 and 19, 2013, from 7 p.m. to 9 p.m. Reservations are required by December 10. Tickets are $12 for members and $16 for non-members. For online reservations, visit http://www.hagley.org or call (302) 658-2400.
Visitors will begin the evening tours at the Hagley Library, where they can immerse into the nineteenth century history of "du Pont Family Holiday Traditions" while viewing the display of gifted items and documents in the lobby exhibit cases. Visitors will be treated to holiday music, champagne punch, and delightful holiday sweets. Holiday visitors will then be transported to the residence at Eleutherian Mills to enjoy three generations of holiday traditions featuring New Year's Day Calling and Twelfth Night.
In a special preview of the residence tours and the "du Pont Family Holiday Traditions" exhibition in the Library, Dr. Erik Rau, director of library services will give a talk on December 6 at 7 p.m. in the library's Copeland Room. Dr. Rau will discuss the early du Pont family New Year's and Twelfth Night holiday celebrations and traditions. He will share observations on how and why the du Pont family adapted their native French custom to their new world on the Brandywine. Hear a brief, informal preview of Dr. Rau's talk on Hagley's YouTube. Registration for the free talk is requested in advance to (302) 658-2400.
Following the special preview and lecture, the free library exhibition will be open Monday, December 9, 2013, through Monday, January 6, 2014, 9:30 a.m. to 4:30 p.m.
About Twelfth Night and New Year's Day Calling
The family of DuPont Company founder E. I. du Pont brought their traditions of exchanging New Year's gifts and Twelfth Night with them when they emigrated from France to their new home at Hagley. Notes, diary entries, and sketches document these celebrations, and the later New Year's Day Calling, in the du Pont family's records in America. New Year's Day Calling was a family social occasion. By the mid 1800s, du Pont men would call on du Pont women who were at home to receive them. Thoughtful gifts were exchanged. The Parlor in the du Pont family's first residence, Eleutherian Mills, will be set up for New Year's Day Calling as if the family were ready with gifts to receive callers. Upstairs will be a small display of early nineteenth-century New Year's gifts received by the du Pont family.
Twelfth Night, called "le Jour des Rois" in France, was celebrated on January 6, marking Epiphany and the end of the twelve days of Christmas. A hallmark of this celebration was a Twelfth Night cake. The cake was baked with a silver bean or token inside. The recipient of the token was named "king" and, in many cases, crowned with a homemade crown. Visitors can see an elaborate Twelfth Night display, complete with a cake, in the Dining Room.
About Hagley Museum and Library
At Hagley, we invite people of all ages to investigate and experience the unfolding history of American business, technology, and innovation, and its impact on the world, from our home at the historic DuPont powder yards on the banks of the Brandywine.
The GPS address for Hagley's Library and Soda House entrance is 298 Buck Road, Wilmington, DE, 19807. The museum, located on Route 141 has the GPS address of 201 Hagley Creek Road, Wilmington, DE, 19807. Please visit http://www.hagley.org for information on "Holidays at Hagley" activities, programs, and specials at the Belin House Organic Café, including brunches.
For more information, call (302) 658-2400 weekdays or visit http://www.hagley.org.