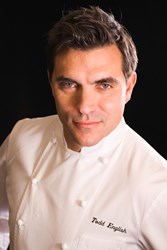 This is going to be one incredible event that I know people are not going to be able to get enough of.
Las Vegas, Nevada (PRWEB) October 23, 2013
This weekend, Las Vegas art, music and food lovers will have the chance to feast their eyes and palates during the first Life is Beautiful Festival taking place this Saturday and Sunday, October 26th and 27th.
Taking part in the weekend's cultural celebration will be celebrity chef Todd English who will participate in some of the festival's epicurean events.
Kicking off the inaugural festival on Friday, October 25th will be the Take A Stand charity dinner with only 40 attendees taking part in the $5,000 per-person soiree. The dinner is a collaboration of six chefs and six courses and English will be preparing the pasta course of Roasted Blue Hubbard Anglotti, Burrata Fondue with Shaved White Truffles. Other participating chefs include Michael Mina, Charlie Palmer and Grant MacPherson. Proceeds from the Take A Stand dinner benefit Three Square food bank and Communities in Schools and will be co-hosted by Honey Salt owner Elizabeth Blau and Hubert Keller of Fleur at the Mandalay Bay.
The festival's first night will also include a much more casual affair, Grills & Guitars featuring 16 celebrity chefs cooking up barbeque, craft brews, artisanal wines and original cocktails. Guests will also be treated to musical performances by American folk-rock band Dawes, and legendary musician Todd Rundgren.
Kings of Leon, Beck, The Killers and Empire of the Sun are among the musical headliners who will perform at the happening festival throughout both days. The interactive Chefs on Stage taking place Saturday will see English and fellow chefs, Cat Cora, Rick Moonen, and Jonathan Waxman among others, offering cooking and preparation tips to an audience of 400. The educational culinary presentation will feature live cooking demos with English preparing an "ugly" fish bouillabaisse.
An avid music fan and musician himself, English is excited to be heading to Vegas to participate in the much-anticipated festival.
"I wouldn't miss this for anything," says English. "This is going to be one incredible event that I know people are not going to be able to get enough of. There will just be so much to see, hear and eat! I am really thrilled to be taking part in this first year of the Life is Beautiful Festival. Not only is this going to be tons of fun, but being able to contribute to some terrific charities makes it even more worthwhile."
Tickets for Grills & Guitars on Friday, October 25th are $175 General Admission and $225 for VIP. Two-day general-admission tickets are $159.50, or $349.50 for VIP, which includes a shaded lounge, lounge seating, VIP restroom facilities, admission to VIP concessions and more. Festival tickets also will allow admission to The Alchemy Gardens from 1 p.m. to midnight Oct. 26th and noon to 11 p.m. Oct. 27. This event will enable participants to meet master brewers, winemakers and distillers (with purchase of additional tickets), with a la carte beer, wine, spirits and sake available. Flight tastings will be available in the Alchemy Gardens for $40 for nine tastings.
Chefs on Stage, included with festival admission, will run from 1:45 to 9 p.m. Oct. 26th and 12:45 p.m. to 8 p.m. Oct. 27th in The Culinary Village. More than 20 chefs are expected to participate in demonstrations. For further information and details about the the Life is Beautiful Festival, please visit lifeisbeautifulfestival.com.
About Todd English:
Todd English is a renowned chef, restaurateur, author, entrepreneur, and television personality based in Boston, Massachusetts and New York City. He is a four-time James Beard Award winner and inductee into the James Beard Foundation's "Who's Who in Food and Beverage in America." He is the CEO of Todd English Enterprises which owns, manages and licenses over twenty restaurants worldwide including Olives (New York, Las Vegas, Mexico City, Bahamas), Todd English Food Hall (New York, Manila 2014), Todd English P.U.B. (Las Vegas, Birmingham), Figs (Boston, Charlestown, Kuwait), Blue Zoo (Orlando), Ça Va (New York), Todd English Restaurant (Queen Elizabeth), Tuscany (Mohegan Casino) and Isabelle's CurlyCakes (Boston). He has two sons and one daughter. For more information on chef Todd English and his restaurants please visit his website at http://www.toddenglish.com. Or, follow him on Facebook – http://www.facebook.com/ChefToddEnglish and on Twitter- @ChefToddEnglish