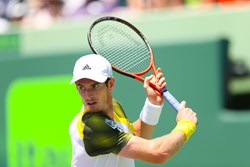 Sugar Hill is a great location and brings a unique element to the Dream Cup
St James, Barbados (PRWEB) October 25, 2013
Andy Murray and fellow tennis champions to play an exhibition doubles match at Sugar Hill Estate, Barbados on the 1st December.
Current Wimbledon champion and two-time Grand Slam winner Andy Murray is heading to Barbados next month. Murray and fellow tennis superstars Juan Martin Del Potro, Richard Gasquet and Nicolas Almagro are all headlining the inaugural Dream Cup tennis tournament to be held on Barbados' Independence weekend, from 28 November – 1 December. "We are thrilled to have top players like Andy, Juan Martin, Richard and Nicolas come to Barbados and experience this incredible paradise," says Kodi Lewis, Executive Director of The Dream Cup Barbados, ahead of the event. "Having this amazing tennis talent compete on the island will be a fantastic experience for the fans and sponsors and we can't wait to kick The Dream Cup off."
The Dream Cup starts on Thursday 28th November with a match draw for the competition and a cocktail party at the Beach House bar and restaurant in Holetown. The two semi-final games will then be played on Friday 29th at Sir Garfield Sobers Sports Complex in St Michael from 7pm, followed by the final, also at this venue, from 7pm on Saturday 30th. But the best has been saved for last: you can see all four of these power players at once in an exclusive doubles match at Sugar Hill Estate, the luxurious and exclusive gated community in St James, on 1 December.
"Sugar Hill is a natural fit to our event for the finale. With its tennis background and stunning backdrop, Sugar Hill is a great location and brings a unique element to the Dream Cup," says Kodi Lewis. The match on Sugar Hill's immaculate show court starts at 3.30pm, followed by a 'cocktails on the court' party with the star players. "I am looking forward to the first Dream Cup in Barbados," says top Frenchman Richard Gasquet. "The ATP has such a demanding schedule, it's nice to end the year in paradise and be able to play a few matches in the off season against some of the best players in the world. I have also heard a lot of golf courses in Barbados and I cannot wait to go and try them."
This is not the first time Sugar Hill Estate has seen champions of the tennis circuit grace its world-class courts. In 2009, Tennis Pon de Rock – a charity VIP event that paved the way for Dream Cup Barbados – saw Serena Wiliams square up against Danish player Caroline Wozniacki. Tennis Pon de Rock came back to the exclusive Sugar Hill Estate again in 2011 when Gael Monfils, Victoria Azarenka, Venus Williams and John Isner wowed crowds with an exhibition doubles match featuring stunning shots, acrobatic displays and dazzling backhand winners. But this year's line up featuring Murray, Del Potro, Gasquet and Almagro is set to be the best yet.
For more details and to buy tickets for all Dream Cup Barbados matches – including the exhibition game with all four players at Sugar Hill Estate on 1 December – head to thedreamcup.com now.
To find out more about Sugar Hill Estate and its collection of luxurious villas, enviably located on the west coast of Barbados with unrivalled views of the Caribbean Sea, and of course magnificent tennis courts, visit sugarhillestate.com.