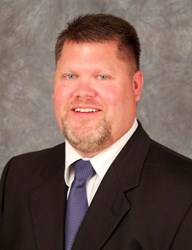 We are very pleased to have Dave join our team as controller. His extensive background in business and financial planning will be a great asset in clarifying decision points as we progress as a company. – Paul Johnson, CEO
Blue Earth, MN (PRWEB) October 24, 2013
Express Diagnostics Int'l, Inc. (EDI) is pleased to welcome Dave Klabunde as controller. In the position, Klabunde will direct EDI's finance department, as well as serve an advisory role in company-wide financial and business decisions.
Klabunde previously served as financial analyst/controller for Fairmont Orthopedics & Sports Medicine and, prior to that, as program-operations manager at Youth Services International, Inc. (YSI), a residential treatment facility for juveniles. While at YSI, Klabunde was involved in all aspects of the organization's operations, including operational planning and direction of cross-functional departments, financial planning, and leading human resources information systems and information technology initiatives.
"We are very pleased to have Dave join our team as controller," says Paul Johnson, CEO of Express Diagnostics. "His extensive background in business and financial planning, as well as his broad operations experience, will be a great asset in clarifying decision points as we progress as a company. Dave will be instrumental in helping management direct our tremendous growth."
Klabunde started with EDI in early October and looks forward to 'getting up to speed' with the various tasks and departments he will be involved with as controller. "I like the business side of controller duties, because numbers don't lie," he says. "My role will be to look forward and around what's going on to allow management to make decisions on the overall direction of the organization."
Originally from Nebraska, Klabunde has lived in the Blue Earth, Minn., area since 1997. He and his wife, Karen, have three children: Ryanne, 15; Taylor and Matthew, both 8.
About Express Diagnostics Int'l, Inc.
Express Diagnostics Int'l manufactures and distributes DrugCheck® on-site urine and saliva screening devices for the detection of drugs of abuse, as well as a growing catalog of rapid alcohol screening and health diagnostics devices. With accuracy comparable to laboratory testing, Express Diagnostics onsite devices provide a variety of industries fast, cost-effective alternatives to higher-priced lab services. Learn more at drugcheck.com.