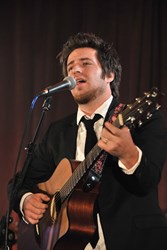 At the Cures Gala we celebrate advancements in cancer research and the impact of Gateway-funded clinical trials.
Schaumburg, Ill. (PRWEB) October 23, 2013
The Gateway for Cancer Research will shine a light on the funding needs for both adult and pediatric cancer research at its annual Cures Gala black-tie charity event, held at the Fairmont Chicago Millennium Park hotel on Saturday, Oct. 26. More than 800 guests are expected to raise $2 million for Gateway-funded clinical trials purposed to help cancer patients feel better, live longer or be cured today, when it matters most.
"At the Cures Gala, we celebrate advancements in cancer research and the impact of Gateway-funded clinical trials," said Karen Kay, director of development at the Gateway for Cancer Research. "But, until we discover a cure for cancer, we are committed to raising funds that will equip cancer researchers with the resources they need to lead promising, new cancer clinical trials."
This year's Cures Gala theme, Every Moment Matters, conveys a sense of urgency that more must be done for today's cancer patients. As a nonprofit that partners with leading researchers all over the world, Gateway is helping to expedite the development of new ideas and to foster advancement in the cancer research field.
"We believe lifesaving cancer treatments are within reach," said Kay, pointing out that progress will come through innovation. "As a nonprofit committed to the fight against cancer, it's our responsibility to encourage and empower researchers to break away from the current research model, and to pursue bold, new ways for targeting and treating cancer. A fresh approach and outside-the-box thinking is needed if we want to bring forth better treatments and a cure for cancer."
While Gateway pursues research funding to address all types of cancer, special attention also will be given to childhood cancer at this year's Cures Gala event. In addition to featuring Gateway-funded research studies in breast, brain and lung cancers, Dr. Frank Balis of Children's Hospital of Philadelphia will take the stage to personally thank donors for making novel clinical trials like his possible. Dr. Balis is leading a new study to reduce treatment side effects for young patients with osteosarcoma.
Gateway will also honor Nathan Harris of Arlington Heights, Ill., a young man who lost his battle this spring to Ewing's sarcoma earlier this year, which is a rare pediatric cancer in need of greater attention and funding for clinical trials the explore safer and more effective treatments. The Harris family will speak at the event and encourage attendees to join them in raising funds for cancer research.
Chicago's very own Lee DeWyze, who won American Idol in 2010, will perform at the Cures Gala event. Having lost his grandfather to cancer, Lee is a long-time supporter of cancer research. The musician has generously donated an autographed guitar, an autographed CD and shirt, and two tickets to his upcoming concert in Chicago. These items are being raffled to the public through Oct. 26. Raffle tickets are available for $25 each online at DemandCuresToday.org/Lee.
Former professional football player Jarrett Payton will serve as the Cures Gala emcee. Gateway has a rich history with the Paytons that dates back to 2000 when the family established the Walter Payton Cancer Fund to raise money specifically for Gateway-funded research studies. For more than 10 years, Connie Payton, widow of Chicago Bears legend Walter Payton who passed away from cancer in 1999, served as a strategic advisor and member of Gateway's Board of Directors.
For more about the Gateway for Cancer Research and its annual Cures Gala event, visit curesgala.org or call (888) 221-2873.
About Gateway for Cancer Research
The Gateway for Cancer Research is a nonprofit 501 (c)(3) organization committed to funding innovative cancer research and bold new ideas for lifesaving treatments that can make a difference today. Thanks to generous underwriting, 99 cents of every dollar received funds phase I and phase II cancer clinical trials all over the world to find better treatments and cures for today's cancer patients. Since its founding in 1991, Gateway has supported more than 100 clinical trials and funded millions in leading-edge research, including blending the best of conventional and complementary/alternative therapies. Get involved today by visiting DemandCuresToday.org, like us on Facebook at facebook.com/demandcures and join the conversation on Twitter @DemandCures.