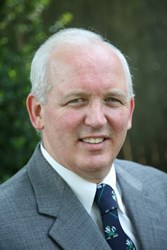 Abington, MA (PRWEB) October 23, 2013
Dr. E. Michael Thomas Jr. is raising awareness on the dangers of gum disease and its connection to bone loss. Gum disease is the number one cause of tooth loss in the United States; and loss of teeth leads to a rapid decline in the health of the jaw bone. Dr. Thomas works to stop the advancement of gum disease with Laser Assisted New Attachment Procedure (LANAP), an FDA-cleared laser gum surgery. LANAP is a non-surgical gum disease treatment that stimulates the jaw bone to regenerate healthy new cells.
Gum disease damages the tissues around the teeth, causing the gum tissue to pull away from around the teeth and create pockets where further infection can occur. If the disease is left untreated, teeth can become so loose in these pockets that they require extraction. When tooth loss occurs, bone density in the jaw can suffer. This is because the jaw bone is a living tissue that needs stimulation by the roots of teeth to maintain a proper level of density.
Bone loss is detrimental to an individual for a number of reasons. Poor bone density could prohibit a patient from receiving needed dental procedures in the future. It may also alter the shape and aesthetics of the face by diminishing the line of the jaw and contribute to further tooth loss.
Bone loss and other consequences of gum disease can be prevented if a patient is treated with laser gum surgery in the early stages of the disease. Dr. Thomas uses LANAP to kill bacteria and eradicate the diseased tissue in the affected area. Because the laser is highly selective, healthy tissue is allowed to remain intact so that it can reattach to the roots of teeth, eliminating the pockets and stabilizing the tooth. The laser also stimulates healthy regeneration of tissue and bone cells. In this manner, teeth that would otherwise require extraction may be saved in many cases.
Individuals interested in laser gum surgery can visit http://www.bostongumsurgery.com for more information.
About The Doctor
Abington Family Dental Care is a general practice that has provided personalized dental care to patients in Abington, MA since 1979. Dr. E. Michael Thomas Jr. received his Bachelor of Science from Notre Dame University, attended the Georgetown University School of Dentistry, and completed his advanced graduate studies in endodontics at Boston University. Dr. Thomas is part of one percent of dental professionals providing the most recent FDA cleared laser procedure for gum disease treatment. To learn more about Abington Family Dental Care and their dental services, please visit http://www.bostongumsurgery.com and call 781-312-6090.