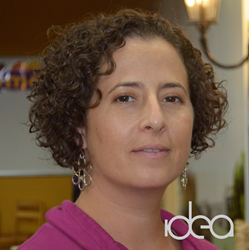 I'm excited about joining a team as creative and hands-on as Idea. Everyone has an engaging personality and great work ethic and I'm so happy to be a part of it all.
Chicago, IL (PRWEB) October 24, 2013
Marketing specialist, Sara Zuckerman joins the creative team at Idea Marketing Group, a Chicago web design firm, bringing a fresh global perspective from non-profit and for-profit industries.
Beginning her career early, Sara earned a Business Degree from the University of Massachusetts and acquired experience in hospitality management working for customer focused companies including Walt Disney. After establishing her hospitality management career, Sara joined the U.S. Peace Corps where she served in a remote village on the island of Samoa. Although confined to a rural village with no internet access, Sara found a way to blog as a means of communicating with friends and family about her experiences in the Peace Corps and later as a world traveler.
Post Peace Corps Sara spent time traveling the world, eventually settling and starting a family on the island of St. Croix, U.S. Virgin Islands. She worked in development for two major non-profit organizations initiating email and social media marketing on projects, planning website projects as well as managing and marketing major events like the St. Croix Food & Wine Experience. She then moved on to co-found Sugarmill Media, which allowed her to continue working with clients both for-profit and non-profit handling print media, email marketing, social media, content writing, membership management and other facets of internet marketing.
Sara and her family parted ways with the island of St. Croix to relocate for her husband's job transfer in the liquor industry. Sara has joined Idea armed with the knowledge to analyze client needs and strategize bridging the gap between a client's present marketing position and their desired goals. Her expertise in hospitality, events and non-profit management have already added perspective and experience to the Idea team.
To learn more about Sara Zuckerman, visit http://www.ideamktg.com.