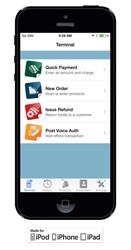 Los Angeles, CA (PRWEB) October 24, 2013
USAePay payment gateway solutions in the industry, is proud to announce the latest update of their mobile payment app version 1.3.1, now available for free download at the iTunes app store. USAePay's app makes accepting credit cards through your Apple device simple and secure with the USAePay Point of Sale Credit Card Payment System. Whether you need to process a quick sale/refund or create a full order, this easy application can work for you. USAePay constantly strives to bring customers the fastest and most secure mobile payments solutions, and updating and maintaining our apps ensures the best possible payment solution available for your apple device.
New and improved features of USAePay App version 1.3.1:

A new pop up message occurs when logging out asking the app user for logout verification.
In the customer list a placeholder has been added that will allow merchant to click on customer data and go back into the list without being forced to the top.
Added tip line that will print on quick payment forms.
This app update supports iOS 7 layout and graphics
USAePay's point of sale credit card payment app is the simple and secure way to accept payments. Learn more about USAePay's iTunes updated iPhone App and download for free at https://itunes.apple.com/us/app/usaepay-point-sale-credit/id363975342?mt=8.
About USAePay:
USAePay is a family-owned business based in Los Angeles, CA. For over 15 years, the company has been assisting merchants with payment solutions to fit their needs. USAePay's payment gateway supports most of the major platforms in the credit card industry and works with some of the leading check platforms. USAePay is pleased to work with most of the larger merchant service banks in the US and Canada. For more information, please visit http://www.usaepay.com or call 866.USA.EPAY (872-3729).