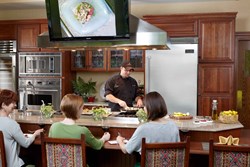 "Our farm-to-table garden is such an inspiration to our chefs and guests, we wanted to have a month-long focus on this time of year when harvesting is top of mind," explains Robert Baldassari, General Manager.
Hawley, PA (PRWEB) October 24, 2013
The Lodge at Woodloch has always had a strong showing when it comes to gourmet offerings. From its award-winning wine list, cooking and baking demonstrations and artfully crafted seasonal menu featuring farm-to-table and local fair, it is no wonder that gourmet dining is the number one preference among loyal guests. "As more and more guests want to increase their knowledge about gourmet cooking and nutritional recipes, we wanted to meet this need head-on," explains Robert Baldassari, General Manager. "Our farm-to-table garden is such an inspiration to our chefs and guests, we wanted to have a month-long focus on this time of year when harvesting is top of mind." The Gourmand Getaway Package, perfect for Foodie Travel, will launch on November 1, 2013 and will include:

Bottle of local wine and cheese plate upon check-in
Cooking and baking demonstrations
Recipe notebook
Custom amuse-bouche with dinner each night
The Lodge at Woodloch cutting board and custom apron to take home
Signature trail mix as a ride-home snack from our chef
The packages requires a two-night stay and is based on the Intro to Spa Package. Rates start at $387 per person, per night.
As a way to kick off the new special package, November will be dedicated to special offerings and presenters focusing on food and wine. Each weekend in November will feature a guest presenter, guest chef, winery, author or expert. A special wine-inspired spa treatment has been curated which will be offered throughout the month to allow guests to fully immerse themselves in the experience. The Essence of the Vine treatment works with the restorative properties of the Chardonnay grape. The 100 minute treatment will begin with a silky sugar body polish of shea butter and hydrating oils to buff away dull skin and a soothing chardonnay bath to calm the mind. A customized vinotherapy massage will complete the journey.
The November weekend line-up includes:
November 1st-3rd
Marge Perry and David Bonom, a husband and wife culinary team, will join us for the weekend - offering a special afternoon cooking demonstration and an evening presentation. In addition, Diane Hoch, Certified Nutritional Counselor, will offer her monthly workshops and cooking demonstration with a special focus on holiday entertaining.
November 8th-10th
Author AJ Jacobs on site hosting presentations on his latest book Drop Dead Healthy: One Man's Humble Quest for Bodily Perfection.
November 15th-17th
The Lodge at Woodloch has partnered with an amazing lineup of experts from across the wine industry for Wine Weekend. Wine weekend will include wine pairings, special wine tastings, meet and greet with the winemakers, herbal workshops, candlelight yoga and special fitness and spa offerings. Dr. Konstantin Frank Wine Cellars and Red Newt Cellars will feature their wine offerings throughout the weekend.
November 22nd-23rd
Dr. Mike Roussell will offer intimate workshops and share complex nutritional concepts and how they can be broken down into practical nutritional habits. His workshop will include The Science Behind Willpower and his recent book called Pillars of Nutrition. Both workshops will offer unique insights on the perfect way to balance holiday eating.
November 29th-December 1st
Join James Beard, award-winning authors Andrew Dornenburg and Karen Page for a weekend of wine and food. Learn about the "personalities" of wine and tips on finding the perfect pairing - both on the plate and in the glass.
Weekend rates in November start at $379 per person, per night. To learn more call 866.953.8500.
About The Lodge at Woodloch:
The Lodge at Woodloch is one of the finest full-service luxury destination spas in the U.S., offering complete spa programs, treatments, outdoor adventure activities, golf, classes and packages in a pristine mountain retreat environment. Located on over 150 wooded acres with a private lake in the Lake Region of Northeast Pennsylvania, The Lodge provides an oasis for personal awakening and renewal just 2 ½ hours outside of New York City. The exclusive property features 58 luxury accommodations and a 40,000-square-foot spa. Additional information and reservations are available toll-free at 1-866-953-8500 or on the Web site at thelodgeatwoodloch.com.