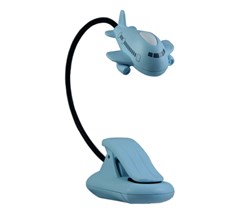 Baby Bright: Designed by moms, for moms
Santa Barbara, CA (PRWEB) October 25, 2013
Mighty Bright, designer and manufacturer of innovative personal LED lights, has launched Baby Bright, a unique line of LED Nursery Lights with nursery-friendly designs and utilitarian features to enhance and enlighten both parents' and infants' lives. Baby Bright lights provide nursery-essential lighting for furniture and changing tables, and are available at http://www.mightybright.com, an online shopping destination for LED lights for everyday life.
Baby Bright LED clip-on lights come in two durable and loveable models — an airplane and a flower— and are perfect for nighttime safety checks, low light diaper changes, nighttime feedings, and evening reading. Designed by moms, for moms, the Baby Bright line features unique details to guarantee the best baby care. The two LEDs in each light are turned on and off with one touch of the button, eliminating the need to cycle through brightness levels. The on/off button is virtually silent, ensuring parents will not inadvertently wake sleeping babies, and a safety screw on the battery compartment protects curious children from dangerous batteries.
Mighty Bright Baby Bright LED Nursery Light Line features:

Two bright white, energy-efficient LEDs
Durable LEDs last 100,000 hours – no replacement necessary
Precisely engineered optical grade lens spreads light evenly
Sturdy clip grips almost anything, or use free standing
Flexible, adjustable neck directs light precisely where needed
CPSIA certified for children's safety
Powered by 3 AAA batteries (included)
Optional cradle base (not included)
Two models to choose from: Airplane or Flower
MSRP $18.99
About Mighty Bright
Mighty Bright's uniquely designed, eco-friendly personal lights are portable and affordable. Based in Santa Barbara, CA since 1985, Mighty Bright blends ease of use with impressive functionality and durability. Since LEDs provide hundreds of thousands of hours of light, you can feel good about your earth friendly purchase. For more information, contact Mighty Bright: 800.922.3233 or visit http://www.mightybright.com.