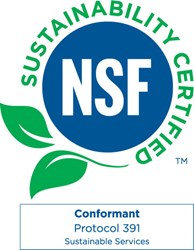 We're proud to be the first certified sustainable furniture dealer.
Milwaukee, Wisconsin (PRWEB) October 25, 2013
On October 9, 2013, National Business Furniture (NBF) received certification under Protocol 391 as a service provider of sustainable services. The Conformant Level certification is important to NBF as a vendor for the federal government and other entities who are taking big steps toward making environmental and energy use improvements, and are asking their providers to do the same.
Scott Nichols, NBF Internet Merchandising Manager, who led the company through the certification process, said, "We're proud to be the first certified sustainable furniture dealer." NBF provides products to the government as a General Services Administration contract holder and also holds blanket purchase agreements with the U.S. Navy and the U.S. Air Force.
Drafted in October 2009, U.S. Executive Order 13514 sets sustainability goals and focuses on making improvements in environmental, energy and economic performance for federal agencies. This demonstrates a new commitment to sustainability and the environment from the federal government, which is the largest energy consumer in the U.S. By the year 2020, 95 percent of all supplier contracts with the government must meet sustainability requirements.
Protocol 391 was developed by NSF International for service providers who want to show their commitment to sustainability, in relation to U.S. Executive Order 13514. NSF International is an independent organization that writes public health and environmental standards for food, water and consumer goods industries. They also certify service providers, like NBF, to meet Protocol 391 standards.
To achieve Conformant Level certification, NBF met all prerequisite credits in environmental criteria, labor criteria, and social responsibility criteria. The certification process included comprehensive documentation and an on-site audit.
Rick Wachowiak, NBF General Manager, said that the certification falls in line with NBF's commitment to becoming more sustainable over time, "It's important to our mission to partner with businesses looking for sustainable solutions for their office environments and has been a focus of our government customers. We are glad to be able to meet their needs in this way," he said.
National Business Furniture was founded in 1975 and is a leading provider of office furniture to large and small businesses, government institutions, medical facilities, and educational organizations. Guided by the vision, "Furniture that Works. People who Care," NBF provides exclusive products, fast shipping, expert service and a lifetime guarantee to thousands of loyal customers.
In 2006, NBF was acquired by K+K America, LLC, the leading group of business-to-business direct marketing companies in North America. For a free catalog, or to browse the complete selection of office furniture, such as desks, chairs, file cabinets, bookcases, and reception furniture, visit http://www.NBF.com.
###