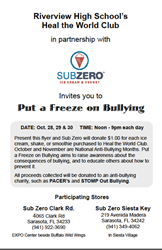 Bullying is a very real--and often hidden--problem to students of all ages.
Sarasota, FL (PRWEB) October 23, 2013
Sub Zero Ice Cream & Yogurt in Sarasota, Fla., is partnering with Riverview High School's Heal The World Club to help end bullying. With a campaign titled "Put a Freeze on Bullying," Sub Zero will donate $1.00 for each ice cream purchased from noon to 9 p.m. on October 28, 29, and 30. Each day, patrons who bring the anti-bullying flyer to either Sarasota store will help support the cause with their purchases.
October is National Bullying Prevention Month, when communities can unite nationwide to raise awareness and prevent bullying. Sub Zero Florida storeowners are excited to sponsor this event and hope to educate the Sarasota community of the realities of bullying.
"Bullying is a very real--and often hidden--problem to students of all ages," said Jill Sheeler-Shenk, Siesta Key storeowner. "Some recent incidents, including a tragic cyber bullying event in Florida, have demonstrated that we have a long way to go before schools are safe and intolerant of acts of cruelty to our students."
Proceeds from the fundraiser will benefit an anti-bullying charity, such as PACER's National Bullying Prevention Center or STOMP Out Bullying, according to the Riverview High School club's discretion.
"We are heartened to know of students who are spearheading efforts to keep this issue in public awareness, and applaud Riverview's Heal the World Club in its aim to educate others about the problems of bullying, how to identify it, and prevent it in the future," Sheeler-Shenk said.
Sub Zero Ice Cream & Yogurt has Sarasota locations in the Expo Center at 4065 Clark Rd., and in Siesta Village at 219 Avenida Madera. Both locations will participate in the fundraising event from October 28-30 and everyone is encouraged to help Sub Zero and the Heal the World Club "Put a Freeze on Bullying."