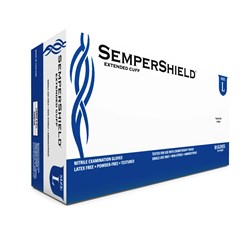 Clearwater, FL (PRWEB) October 29, 2013
Today, Sempermed USA, one of the world's leading manufacturers and suppliers of disposable hand protection, announced the reintroduction of the SemperShield® Extended Cuff Nitrile Examination glove.
The new and improved SemperShield® Extended Cuff Nitrile Exam gloves are available for those in need of a twelve-inch, powder-free, latex-free, exam glove. The new manufacturing process produces a glove that is incredibly comfortable, elastic, and durable. The textured fingertips provide a grip that allows for complete control in both wet and dry environments, and the extended cuff provides extra protection to the wrist and lower forearm. Additionally, SemperShield® Extended Cuff Nitrile Exam gloves have been tested for use with chemotherapy drugs, which makes these gloves the ideal choice when handling caustic and hazardous chemicals.
The superior SemperShield® Extended Cuff Nitrile Exam gloves are available in sizes Small through XX- Large and are packed with 50 gloves per dispenser box, 10 dispenser boxes per case. The product reorder numbers are SSNF102 (size small), SSNF103 (size medium), SSNF104 (size large), SSNF105 (size x-large) and size SSNF106 (size xx-large).
Sempermed is a vertically integrated manufacturer that provides focused sales, marketing, and logistical support to those in need of hand protection. For more information on Sempermed or our innovative products, please contact us at our website SempermedUSA.com by email GloveInfo(at)SempermedUSA(dot)com or call 800-366-9545.