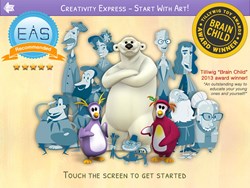 The lessons are a perfect tool for both teachers and parents to use for stimulating children to engage in creative activities and to learn that art is accessible to everyone. - Educational App Store
Tampa, FL (PRWEB) October 25, 2013
Look for 'Art Education' in the App Store, and you won't find it. Sure, there's Painting and Drawing, and Music, Geology, Astronomy and a host of other subjects. Still there's no true category for Art - one that gives children the elements and principles of art in a way that they can understand, even have fun with. Madcap Logic is pleased to fill that niche with 'Start With Art!', the first four lessons of Creativity Express in a child-friendly app.
Start With Art! has earned an EAS five star certification. The Educational App Store recognized 'Start With Art!' for learning outcomes including Cognitive Development, Communication Skills, Collaboration Skills and Creative Development. The EAS recommendation for 'Start With Art!' comes on the heels of the Tillywig Toy 'Brain Child' Award in early September, just a few weeks after launch of 'Start With Art!'
Schools have increasingly dismissed art education as a 'special' in curriculum, yet it has been proven through government studies that art education measurably increases a child's academic achievement.
Created by former Disney animators and professional educators, Creativity Express is animated online Art Education for children ages 7-97. 'Start With Art!' is available in the App Store and on Google Play.