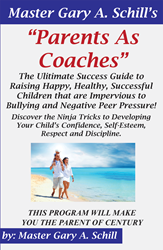 The Ultimate Success Guide to Raising Happy Healthy Children
Cedar Park, TX (PRWEB) October 24, 2013
CNN Reporter Kevin Conlon reported the arrest of a 14-year-old student in connection with the death of high school teachers Colleen Ritzer.
According to Peak Performance Martial Arts Owner and Chief Instructor Master Gary A. Schill, this is the second death of a school teacher in a violent act this week. Master Schill goes on to say the deaths of the teachers, the one middle school student and the negative future of the accused high school student could have been avoided.
According the Master Schill we are living in a world today that is not holding anyone accountable for their actions or lack of actions. Parents are afraid or unwilling to provide structured environments for their kids to function within. School districts are in complete denial about bullying and dealing with children with severe anger issues. All of this passing the buck in having very negative consequences.
Children are no longer raised with the "Village" mentality. Children also know that teachers can no longer administer tough discipline so they know there are no consequences for their actions. In addition, bullied children also feel like they have no other recourse and the "Zero Tolerance Policies" adopted by schools make it even harder for bullied children to stand up for themselves with the threat of being punished at the same level as their bully.
According to Master Schill, there is a growing epidemic of young boys that do not have father figures at home or in their lives and they have lost that male guidance that is so important for their future development. Mothers are great and nurturing, however the strength of a father and father figure provides a healthy fear for young men so they can grow while understanding their place in society.
Master Schill is the creator of the Parents as Coaches program, this program assist parents, teachers and mentors with traditional techniques with 21 century adaptation. This program has been featured on ABC, CBS, NBC, FOX and the USA Today.
Master Schill has nearly 39 years experience with child and family development. Peak Performance Martial Arts, located in Cedar Park, TX, is one of the most successful academies in the United States. He is also a three time best selling author including his latest book, "The Success Secret", co-authored with Jack Canfield from Chicken Soup for the Soul.
Master Schill is an entertaining interview and will provide your audience with great nuggets of wisdom that will keep them engaged in your program for 5 minutes or 2 hours.
To interview Master Schill, you can reach him at 512-918-8921 or info (at) PeakCedarPark (dot) com.
######