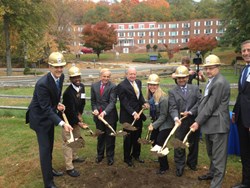 'Apart from the Tappan Zee Bridge project, this is the largest construction project going on in our county today,' said Westchester County Executive Robert P. Astorino.
Pleasantville, NY (PRWEB) October 23, 2013
State, county and local leaders today joined with Pace University administrators to celebrate the 50th Anniversary of the Pleasantville campus and break ground on the first phase of a Master Plan to transform and revitalize the 200-acre campus.
"As we commemorate the 50th anniversary of our Pleasantville campus this year, we now prepare for the next half century with a major transformation of our campus. This project, together with new academic programs and related enhancements, represents a significant investment in and commitment to the future of the Pleasantville campus," said Pace President Stephen J. Friedman.
Today's formal groundbreaking ceremony, which was attended by more than 100 government and business leaders and members of the academic community, represents the culmination of more than four years of extensive planning resulting in a Master Plan designed to enhance the quality of the Pleasantville campus experience. The $100 million project is one of the largest construction projects under way in the Hudson Valley region. The planned improvements are anticipated to be completed over a period of five to eight years.
"Today, we break ground on a project that will make Pace even better, not just in terms of modern 'green' buildings, but in terms of what it will offer its future students. Apart from the Tappan Zee Bridge project, this is the largest construction project going on in our county today," said Westchester County Executive Robert P. Astorino.
"These are truly exciting times for Pace University and the Town of Mount Pleasant. As Pace University celebrates the 50th anniversary of its Pleasantville campus and begins construction on its extraordinary Master Plan, we are reminded of how fortunate we are to have Pace in our community. For over 50 years the University has been exceptionally committed to giving back to our Town through an array of annual community service initiatives, charitable activities and serving as an open campus to our residents. Pace is a tremendous academic, economic and cultural resource to our Town, and the start of its Master Plan marks the University's reinvestment in the Mount Pleasant community for the next 50 years and beyond," said Mount Pleasant Town Supervisor Joan Maybury.
The project will enable Pace University to consolidate functions that are now split between campuses in Pleasantville and Briarcliff. Currently 690 students reside on the Pleasantville campus and 590 at Briarcliff. The 35-acre Briarcliff campus, which Pace opened in 1977, is for sale. While no classes are taught in Briarcliff, the plan will allow athletic and certain administration functions that are now there to be brought to Pleasantville.
The first phase of the project (Phase1A) will entail creation of two new residential buildings, an expanded student center, the relocation of the environmental center and athletic facilities necessary to replace those being vacated at the Briarcliff campus. Improvements to the infrastructure, more open green space and improving pedestrian accessibility are also part of the planned enhancements
"This Master Plan is a vision for a modern and sustainable campus designed to improve the student experience," said William J. McGrath, Senior Vice President and Chief Administrative Officer at Pace. "It will enable Pace to continue to attract and retain high quality students and to fulfill our educational mission. The plan, which is the result of extensive study and analysis, adheres to sustainable development standards in a manner that is sensitive to the existing environmental conditions of the site and the surrounding community."
The planned improvements will have minimal visible impact on the surrounding area and the 115-acre internal wooded buffer that wraps around the north, east and southeast portions of the campus will remain undisturbed.
The Master Plan represents a significant investment by Pace University in the local and regional economy. As Westchester's 13th largest employer, Pace contributes approximately $64 million annually to the county's economy in direct and indirect spending. Of its total workforce, 934 live and work in Westchester; of that total 205 reside in the Town of Mount Pleasant. Additionally, some 18,384 Pace alumni live in the county with 1,900 residing in Mount Pleasant.
About Pace University
Since 1906, Pace has educated thinking professionals by providing high quality education for the professions on a firm base of liberal learning amid the advantages of the New York metropolitan area. A private university, Pace has campuses in Lower Manhattan and Westchester County, N.Y., enrolling nearly 13,000 students in bachelor's, master's, and doctoral programs in its Lubin School of Business, Dyson College of Arts and Sciences, College of Health Professions, School of Education, School of Law, and Seidenberg School of Computer Science and Information Systems.