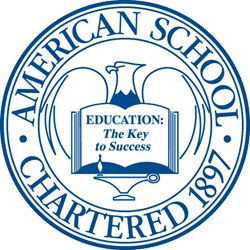 Lansing, IL (PRWEB) October 25, 2013
The American School's 116th Annual Meeting, held as a special meeting of the Board of Trustees and Members of the Corporation, was an occasion for those present to review the past year's activities and look ahead to the future. A major accomplishment of the past year was the School securing new accreditation by Ai (Accreditation International) and NCPSA (the National Council for Private School Accreditation), an achievement which received special recognition from the Board of Trustees.
The Board of Trustees, which consists of Roberta Allen, John Kemp, Gary R. Masterton, John McCulley and Mary McKeown, elected officers for the upcoming year, including President Gary R. Masterton and Executive Vice-Presidents Vincent J. Immordino and G. Marie Limback, who, along with Rene S. Villalva, will form the School's Executive Committee. Those present also elected four new Members of the Corporation: Judy Piscione, Valerie Riley, Sunila Samuel and Cher Tufly.
The American School has been a leader in distance education since 1897 and has helped more than three million students worldwide achieve their goal of earning an accredited high school diploma. For more information, visit http://www.americanschool.org.