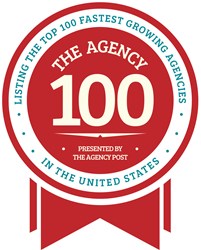 "We're proud that our hard work continues to being recognized, and certainly, we couldn't have done any of this without our amazing clients."
Hauppauge, NY (PRWEB) October 24, 2013
Austin & Williams has been named one of the 100 fastest growing ad agencies in a ranking by The Agency Post, a trade publication for advertising, public relations and marketing professionals. The Long Island, New York branding, advertising, social media, interactive and direct marketing agency grew 64 percent over the past three years.
"We're thrilled to be included on a list of agencies recognized for 'demonstrating fortitude, strong relationships, great work and strategic ideas'," says Rick Chiorando, chief creative officer at Austin & Williams. "Over the years, we've built an exceptionally talented agency that I'd run up against anyone – and our growth proves it." Founded in Manhattan nearly four decades ago, the outcomes-driven agency now employs 35 professionals.
"Because we're outcomes-driven, everything we do – every strategy, every program and every executional element—focuses on achieving the client's key outcomes: from building awareness and strengthening their brand position to selling their product or service." The agency specializes in such competitive industries as higher education, healthcare and financial services.
The 2013 Agency 100 ranking is the latest of Austin & Williams' accolades, according to Chiorando. The firm consistently earns membership in the prestigious American Association of Advertising Agencies (4As) and is also one of our area's most-awarded communications firms.
"We're proud that our hard work continues to being recognized, and certainly, we couldn't have done any of this without our amazing clients."
About Austin & Williams
Austin & Williams is an outcomes-driven marketing agency headquartered in Hauppauge, Long Island, New York. Specializing in the health care, financial services and higher education industries, the agency provides a full range of branding, advertising, social media, interactive and direct marketing services to help clients achieve their desired outcome with award-winning campaigns that are research-focused and strategically sound.