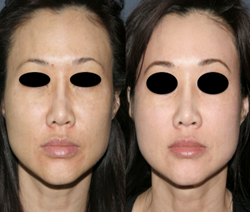 It's a great treatment to consider for those who lead a busy lifestyle.
San Diego, CA (PRWEB) October 28, 2013
In a newly published article of Dermatology Times, world-renowned dermatologist in San Diego Dr. Sabrina Fabi explains recent research on the cutting-edge 1927 NM Thulium Laser, also known as the Fraxel DUAL, and it's success in treating patients affected with melasma. According to Dr. Fabi, undergoing treatment with the non-ablative Fraxel DUAL laser can diminish brown spots on the skin in as little as one treatment
"Melasma, which causes brown spots to appear on the skin, is an extremely common problem that many people are plagued with, especially residents of sunny Southern California," said Dr. Fabi. "As new research continues, we're learning that undergoing Fraxel DUAL treatments can effectively erase hyperpigmentation problems in just one or two outpatient visits."
The study in which Dr. Fabi participated was comprised of twenty female patients who were experiencing melasma. After just four weeks from one treatment, 60% of the test subjects experienced a 50% clearance of their skin discoloration.
"Historically, melasma has been one of the more difficult problems to address for patients. Before lasers and light treatments, topical bleaching agents and chemical peels were the go to treatments, but they don't offer the type of clearance the Fraxel DUAL is capable of for recalcitrant cases. It's a very exciting advancement," said laser expert Dr. Fabi.
The Fraxel DUAL laser, which is offered at Cosmetic Laser Dermatology in San Diego, not only treats melasma, but a wide variety of other skin conditions including acne scarring, surgical scars as well as fine lines and wrinkles. One of the best parts about undergoing treatment with this fractional laser is the minimal recovery time required after the treatment.
"After a Fraxel DUAL treatment, patients usually experience only minor redness or swelling for the first couple of days and feel up to returning to their normal daily activities almost immediately. It's a great treatment to consider for those who lead a busy lifestyle," said San Diego dermatologist Dr. Fabi.
Sabrina G. Fabi, MD, is a board certified dermatologist and Diplomate of the American Board of Cosmetic Surgery who serves as associate research director and works on clinical trials at the landmark dermatology center of Goldman, Butterwick, Fitzpatrick, Groff & Fabi in San Diego. As a specialist in laser and injectable treatments, Dr. Fabi helps patients achieve ideal aesthetic results through multiple cutting-edge procedures including non-invasive Ultherapy skin-tightening and lifting, Photodynamic Therapy, CoolSculpting, Sclerotherapy, and volume restoration with dermal fillers and biostimulators such as Sculptra. As a highly-respected dermatologist, Dr. Fabi believes in developing a unique and custom treatment plan for each and every patient she sees.
To learn more about the treatments offered by expert San Diego dermatologist Dr. Fabi, contact Cosmetic Laser Dermatology today by calling (858) 657-1002 or by visiting: http://www.gbkderm.com/.