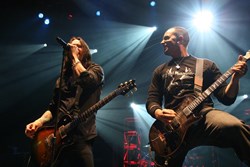 Stevensville, MD (PRWEB) October 25, 2013
It has been three years since Alter Bridge's last studio album, ABIII, was released in the US, but it is clear their fans have been waiting for them to return. Now the rock juggernaut band comprised of Myles Kennedy on vocals/guitar, Mark Tremonti on guitar/vocals, Brian Marshall on bass and Scott Phillips on drums return with their fourth album, Fortress, released on October 8th via EMI Label Services and debuted at #12 on the Billboard Charts. The latest record builds upon the sound that Alter Bridge has been known for with their uncompromised vocal melodies, untouchable dueling guitar work and pounding rhythm section. The album was produced by long-time Alter Bridge producer Michael "Elvis" Baskette, known for his work with Falling In Reverse, Story Of The Year and Incubus to name a few. Loudwire.com describes it as…"a collection of tracks that push new boundaries for the intrepid melodic rock act. The daring song arrangements experiment just enough to open up a whole new world of audible opportunities all while offering up enough familiarity to not exclude longtime fans. While this is no easy feat, Alter Bridge manage to find the delicate balance of quietly evolving without erasing any of the past."
"When we started pre-production on this album, we pushed ourselves harder and further than we ever have previously in order to make the most out of every individual arrangement. We wanted this album to be our most unpredictable and exciting one yet. From the early feedback we have received, it looks like we have achieved what we set out to do," exclaims Tremonti.
From the opening licks of "Cry of Achilles" throughout the other 12 songs that were recorded for Fortress, it is clear Alter Bridge are back to reclaim their place as one of hard rock's marquee bands. The band showcases some of their heaviest material ever in tracks like "Bleed It Dry" and "Farther Than the Sun," but also shows their signature softer side with songs like "All Ends Well" and the epic title track "Fortress." Fortress is full of unapologetic, searing hard rock tracks that Alter Bridge has come to be synonymous with around the globe.
Both Myles Kennedy and Mark Tremonti endorse Paul Reed Smith electric guitars and use the US manufacturer's guitars extensively both on stage and in the studio. Kennedy predominantly plays a PRS McCarty & SC245, while Tremonti, four-time Guitar World magazine "Guitarist of the Year," Grammy Award winner and member of the mega-group Creed, is one of only three artists to have both an American-made PRS signature model and a PRS SE signature model (along with Carlos Santana and Dave Navarro). Tremonti uses both models when performing and recording and says that his specially designed PRS Tremonti Treble and Bass humbucking pickups help define his sound. "When we designed my signature model, the pickups were especially important to me," he says. "I wanted a sound that was more edgy than bluesy. We took a lot of time to make sure that we got it right, but we really got it." That edgy sound is prevalent in Fortress's 12 hard driving tracks.
Alter Bridge is currently touring Europe to support the album in an extensive headlining tour that will run from October 16th through November 16 and will feature Shinedown and Halestorm joining the band on select dates. http://www.alterbridge.com
About PRS Guitars:
Paul Reed Smith Guitars is a leading manufacturer of high quality instruments in Stevensville, Maryland and has provided some of the world's most renowned musicians with instruments since 1985. The PRS team of highly skilled craftspeople design and build a wide variety of musical instruments and gear for worldwide distribution, including electric, acoustic, and bass guitars as well as boutique-style guitar amplifiers. The PRS SE line of products complements the Maryland-made PRS line by offering highly approachable and more affordable electric and acoustic guitars and guitar amplifiers. Carlos Santana, Neal Schon, John McLaughlin, Linkin Park, Orianthi, Opeth, Zach Myers of Shinedown, Mark Tremonti of Creed and Alter Bridge, Ricky Skaggs, Cody Kilby, Martin Simpson, Tony McManus, Warren Haynes, and Derek Trucks are among the artists currently playing PRS instruments and/or amplifiers.
PRS Guitars Info: http://www.prsguitars.com
Images are available via the following link: http://prsguitars.com/media/alterbridge/