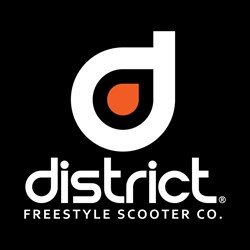 Shaun Staeple's video chosen by the District Pro Team, was by far the ruler over all districts. Said Todd Grady, Editor Scoot Mag
Corona, CA (PRWEB) October 24, 2013
Rule Your District Video Contest for popular action sports brand, District Freestyle Scooter Co. (District), officially ended Friday, October 18th, with 124 original edits and over 100,000 interactions - quickly becoming the largest organized video contest in the sport to date.
Rule Your District was launched as a platform for amateur riders worldwide to showcase up-and-coming talents and the opportunity to win a coveted one-year AM sponsorship deal with District and Eagle Sport Wheels. The contest ran from July 19th to September 8th, 2013 (entry period) on the District Freestyle Scooter Facebook page where riders submitted 2-minute video edits of their best riding, followed by a community-voting period from September 9th to October 1st, 2013.
Grand Prize Winner Shaun Staepel from the United States was hand-selected by the District and Eagle pro teams to win a year-long amateur sponsorship, ISA travel budget to regional competitions and an exclusive interview with Scoot Mag. The team's choice was based on the skill and variety Shaun exhibited in his video, earning his place as the number one submission in the competition.
"OMMMMMG thank u guys sooo much," wrote Shaun Staepel on the District Facebook page after the announcement of his win. District fan Alexander Thomas Buffery commented, "That could be some of the nicest riding I've ever seen."
Steez Award presented by Scoot Magazine was awarded to Trevor Pritchard from the United States, handpicked for overall style and was the lucky rider to take home $500 cash.
"Our team is fully certified in the science of Steez," declared Todd Grady, editor of Scoot Mag, after selecting Trevor Pritchard's submission for the Rule Your District Steez award. "Trevor's video stood out to us as he embodied the definition of Steez - making super hard tricks look stylish and easy."
Best Trick winners were decided by the District pro team and include: Anton Abramson from the United States (Best Trick #1), Jack McCann from Australia (Best Trick #2) and Jamie Shepherd from the United Kingdom (Best Trick #3). Anton's video was selected for performing a "whip fs smith to fs feeble 360 whip out." Each of the Best Trick winners will receive a complete custom scooter and parts package from District.
Popular Vote awards were given to fifteen (15) winners who each received a complete customized District scooter, wheels and accessories for receiving the most votes. The first place winner of the popular vote contest was Jamal Balkhi from the United States, who received 1,198 votes for his submission, followed by Anton Abramson (USA) and Kris-Robin Sirge (Estonia). A list of the top fifteen winners of the popular vote contest and their videos can be viewed on the District Freestyle Scooter YouTube Page at http://www.youtube.com/user/RealDistrictScooters.
Rule Your District Video Contest had 124 original videos submitted, more than 12,000 votes, over 46,000 direct contest visits, and countless interactions from fans across social media. Submissions also came from twenty-two (22) different countries around the world including Mexico, Slovakia, Hungary and the Russian Federation. The Real District Scooters Facebook page saw an unprecedented amount of engagement throughout the contest, reaching a benchmark of 50,000 fans during the announcement of the final results. The extent and impact of this contest is testimony to the increasing popularity of Freestyle Scooter Riding around the world and the amazing progression of the sport.
About District
District Freestyle Scooter Co. was founded in 2007 by FSP Group as the pioneering brand of the modern freestyle scooter movement, setting the standard for scooter design, manufacturing and performance. District currently has over 500 dealer locations in the United States and global distribution in 30 countries and growing. Notable industry innovation milestones include being first brand to develop freestyle scooter parts & accessories (2007), invention of the first ever slide-in break for noiseless riding (2008), and engineering the lightest & strongest deck ever made (2009). The District pro team encompasses nine of the best pro riders from around the world, including Brandon James (UK), Cam Ward (USA), Chris Hart (Australia), Coedie Donovan (Australia), Fernando Young (Peru), Helmeri Pirinen (Finland), Michael Goumaz (Switzerland), Rory Coe (Australia) and Tom Mattingly (USA). For more info please visit http://www.districtscoot.com.
About Eagle
Eagle Sport is the original hand poured freestyle scooter wheel manufacturer. Founded in 1993, Eagle Sport began by developing a superior urethane wheel formula and manufacturing process for roller skiing that revolutionized the sport. In 2007, Eagle Sport expanded into the freestyle scooter industry, dedicating their factory in Holland toward the manufacturing of hand-poured performance wheels specifically engineered for freestyle riding. Today, Eagle Sport is the premiere freestyle scooter wheel manufacturer dedicated to making the fastest, longest lasting wheels available. Ride the best. Ride Eagle Sport. For more info please visit http://www.facebook.com/eaglesportwheels.