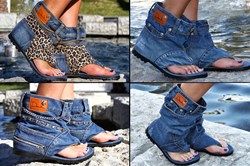 Laguna Beach, California (PRWEB) October 24, 2013
Fashion designer Danielle Katz has launched a new crowdfunding initiative with a goal of raising $20,000 to kick start the production of Dani.K jeans sandals. Proceeds will be used to start large scale manufacturing of the first line of sandals made of denim fabric. The project will be funded only if pledges hit the target by Friday, November 15, 2013 at 6:55 am EST.
Hosted by Kickstarter, the 31-day campaign will accept pledges from a minimum of $5 all the way to $360. Aside from Dani.K jeans sandals available in different quantities at specific pledge levels, backers may also earn Dani.K jeans bracelets with their contributions. More sizes and styles will be made available if the total amount of pledges exceeds the target. To help spread the word about the campaign and to generate more interest, backers can also share links to the page via social media.
The idea for the product was conceived when Katz was rummaging through her closet and found an old pair of her favorite jeans, which she then recycled into fashionable accessories, including footwear. The small quantity of handmade jeans sandals have already generated an enormous response from those who have worn and seen it. On NBC's Today Show, Tamron Hall and Savannah Guthrie were seen wearing and discussing the Dani.K denim-made sandals. When word about it hit the Internet and television, the demand became so overwhelming that Katz (now with her California based business partners) decided it's high time for large scale production.
Dani.K jeans sandals are made of 100-percent cotton, indigo denim fabric woven especially for the product and washed with precision to achieve the vintage look. The footwear has a ThermoPlastic Rubber (TPR) sole that is as flexible as a traditional leather sole, but more durable. Other features include usable pockets, animal-friendly or non-leather brand label, interior brand name print, and top quality custom accessories. Styles available for the first line include the Tall, Classic, Punk, and Leopard, and offered sizes are provided on the Kickstarter page. To ensure efficient production and delivery, top quality manufacturers and suppliers have been contracted.
Denim has been used as a material for a plethora of products such as clothing, accessories, furniture, and vehicles. The universal appeal of anything denim has not faded through the decades. No matter how familiar the blue material is, it always gives any product the unique look whether it is worn by workers or fashion models. It is not surprising that the earliest release of Dani.K jeans sandals have already made the rounds in mass and social media.
For more details on the product and backer rewards, visit the Dani.K Kickstarter page.