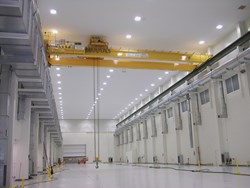 Amity Township, Douglassville, PA (PRWEB) October 25, 2013
NASA is currently using one of American Crane & Equipment's Single Failure Proof Cranes to assist Lockheed Martin personnel to move the Orion space capsule inside the Operations & Checkout (O&C) Building at the Kennedy Space Center, Florida. The capsule is moved through several work stations during assembly, testing and preparation prior to flight.
This 25 ton crane will also accompany the Orion capsule on the project's second stage, inside the O&C Building, and help with placement for transport to the launch pad. In the future, this crane will also lift the Crew Module to the Service Module and onto the transport as well.
American Crane is currently building another crane for the Orion Project. Lockheed Martin will be relocating the current 25 ton crane to the O&C's receiving room and the new crane will then be installed in the Low Bay of the O&C Building. This 30 ton crane, expected to be completed by February 2014, will then become the new O&C Low Bay Crane.
For more information on American Crane & Equipment's products and services, please email us at info(at)americancrane(dot)com or visit our website at http://www.americancrane.com.