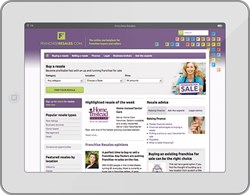 Buying a franchise resale represents less of a risk than starting a new business from scratch.
Sarasota, FL (PRWEB) October 24, 2013
Franchiseresales.com, the leading source for franchise information and the best place to buy or sell a franchise, is pleased to announce they will be attending the West Coast Franchise Expo. The show is put on by the International Franchise Association and will take place on October 24 – 26 at the Anaheim Convention Center in Anaheim, California.
The conference provides a forum to educate interested franchise sellers and buyers. In conjunction with the exposition, the conference features several free seminars on topics of buying a franchise, franchising your business, three party franchising, and seeking growth domestically and internationally as a franchisor.
The franchise industry is currently indicating signals of recovery. According to a recent report by the International Franchise Association in Washington, D.C., the number of franchised businesses is predicted to grow nationally by almost 2% after more than three years of decline.
"The West Coast Franchise Expo comes at a great time for the franchise market," said Nancy Estep, founder of Franchiseresales.com. "Buying a franchise resale represents less of a risk than starting a new business from scratch. We are excited to network and serve as an expert to aspiring entrepreneurs."
Those interested in discussing their franchise resale options should stop by the booth or email Nancy at nancy(at)franchiseresales(dot)com to set up an appointment during the exposition.
MFV Expositions, a partner with franchiseresales.com and international industry expert, is producing the West Coast Franchise Expo. Tom Portesy of MFV said, "Partnering with franchiseresales.com adds considerable value to the franchisor experience because we help provide expert assistance that is often overlooked."
About Franchiseresales.com
Franchiseresales.com is the only marketplace on the web dedicated to the resale of existing franchised businesses. Franchiseresales has all the knowledge for buyers, sellers, investors or those simply interested in learning more about buying a resale. For more information on buying, selling, investing in, or legal information regarding franchises, visit http://www.franchiseresales.com.