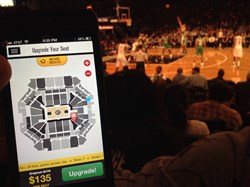 Pogoseat transformed our viewing experience! We have saved hundreds by using Pogoseat to take us closer to the action.
San Francisco, CA (PRWEB) October 30, 2013
Pogoseat has developed mobile technology that enables sports teams and entertainment venues to sell unsold seating inventory and in-game experiences. From the fan side, it is an app that improves their live-event situations by giving them the freedom to upgrade seats before or during events. Since its inaugural launch with the Golden State Warriors in 2012, Pogoseat has helped pave the road for seat upgrade technology and has partnered with other top-tier sports franchises and organizations.
"It's been a pleasure to partner with Pogoseat to improve the in-game experience for our fans," said Brandon Schneider, Group Vice President, Ticket Sales & Services for the Golden State Warriors. "Pogoseat is always looking for creative ways to enhance their service through innovation and by leveraging technology. We look forward to working with them again this upcoming season."
New national teams on Pogoseat Platform: Nets, Kings, Pistons, Giants, Bruins, the AFL and the Pac-12:
As the 2013-2014 NBA season approaches, Pogoseat is pleased to announce that it has launched its seat-upgrade app with three new NBA partners, the Brooklyn Nets, the Sacramento Kings, and the Detroit Pistons. Seat upgrade options are subject to availability.
In addition to the NBA partnerships, Pogoseat has made strides in other areas as well, once again teaming up with Stanford as well as adding the San Francisco Giants, the UCLA Bruins, the Arena Football League and the PAC-12 conference as partners.
Mobile Embedment With Team Apps: NBA Partner Apps and MLB App for Giants"
An advantage of Pogoseat is that it can directly embed into individual team apps in order to give fans a one-stop shop when attending a game. Pogoseat is embedded in all its NBA partners' team apps as well as the MLB At The Ballpark App for San Francisco Giants fans.
Direct Integration with Web's leading ticket providers: Ticketmaster and Tickets.com:
Pogoseat is pushing the envelope for seat upgrade technology. It has integrated with Ticketmaster's Archtics and Tickets.com's ProVenue ticketing systems (other systems such as Veritix are underway), streamlining the upgrade ticket sale process for teams and presenting the best seat upgrade options to fans.
Helping Teams Improve the Fan Experience:
Pogoseat provides various data analytics that teams can utilize to better understand their fans, generate season ticket sales leads and more. Further, Pogoseat has also built out new rewards programs and is integrating with fan loyalty systems, enabling teams to reward season ticket holders and delight valued fans.
Look for Pogoseat to partner with more big name sports and entertainment organizations in the coming months as it continues to add new features to its product, further enhancing the live-event experience.