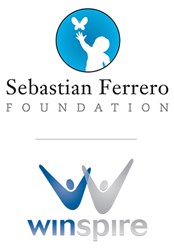 The Noche de Gala auction has featured Winspire trips for the last five years and they have brought much excitement to the auction.
Micanopy, FL (PRWEB) October 24, 2013
The Sebastian Ferrero Foundation is looking forward to its annual Noche de Gala fundraising event on Friday, October 26th at the 642-acre farm of Besilu Collection. Following last years sold-out event of over 1000 guests, this years' Noche de Gala promises to be an evening packed with live entertainment, silent auctions featuring unique and extraordinary items, exquisite dining and much more! With a theme of "Oasis", the sixth annual Noche de Gala is on track to raise over $1.2 million in support.
Winspire is partnering with the Sebastian Ferrero Foundation to provide 11 exclusive travel packages for use in their auction, which they hope will raise them more than $30,000. Packages include such Experiences as "Cult Winemakers VIP Access" and "Romantic Escape to Paris & Prague".
"The Noche de Gala auction has featured Winspire trips for the last five years and they have brought much excitement to the auction," says Event Coordinator Lesley Cox, "Every year, guests are looking for what is new this year and what kind of adventure they can take while donating to a cause they support. We have many repeat Winspire trip purchases, as our guests enjoy the ease and quality of the trips."
About Sebastian Ferrero Foundation
Sebastian Ferrero Foundation was created by Horst and Luisa Ferrero in 2007 in memory of their happy and healthy 3-year-old son, Sebastian, who died in October 2007 as a result of a series of preventable medical errors including a medication overdose in Gainesville, FL. Their mission is to advocate and fundraise for a state-of-the-art, full-service children's hospital in Gainesville, FL, while promoting excellence in patient safety and ensuring that all families are treated with compassion, courtesy and dignity. The Foundation works on patient safety initiatives with the UF Health Sebastian Ferrero Office of Clinical Quality and Patient Safety and supports the expansion of the UF Health Shands Children's Hospital. For more, visit: http://www.SebastianFerrero.org.
About Winspire
Winspire provides highly sought after and unique travel Experiences for use in benefit auctions or charity fundraisers. This increasingly popular fundraising tool allows organizations to place exclusive travel packages in their fundraisers without any upfront cost. Since organizations purchase only those packages they sell, Winspire Experiences can be used with no risk at live auctions, silent auctions, raffles or any number of fundraising events. Experiences include award shows, major sporting events, VIP access, family vacations, international trips, cruises and hundreds more. Winspire fulfills each and every package for the winning bidders, booking each Experience down to every last detail. For more information, please visit http://www.winspireme.com.