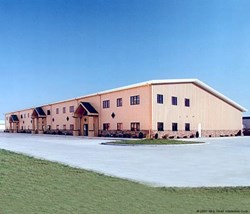 We are very happy with the new facility.
McKeesRocks, PA (PRWEB) October 24, 2013
St. John's Lutheran Church and School of Ocala Florida recently celebrated the Grand Opening of its new Olympia Steel Buildings 7,200 square foot multi-purpose building, "Grace Place," in the continuing expansion of its ministry. St. John Lutheran School has been a part of the Ocala/Marion County community for almost 50 years and has established a reputation for providing students in this area with a quality Christian education. The new multi-purpose steel building is an attractive fox gray with polar white trim.
"The school buildings expand out from the church, symbolizing the fact that the church's primary mission for almost half a century has been to "expand out" into the community by offering an academically rigorous education from a Christian perspective to the young people of Ocala," states the Church's online mission statement.
"I have used this 'Multi-purpose' facility as a showplace several times," declares Bob VanHoose, the building purchaser. "We are very happy with the new facility."
"I went to the grand opening/dedication and was called out for the excellent building and outstanding service in the project, recalls Steve Pinto, senior building consultant for Olympia. "St John's Lutheran Church was great to work with and it is so satisfying to be able to provide a facility for such an outstanding community resource.
About Olympia Steel Buildings
The Olympia Steel Buildings® is an industry leader in pre-engineered steel buildings for over 40 years, Olympia Steel Buildings are used in commercial, industrial, agricultural and residential applications and by government, military and civilian agencies. Olympia Steel Buildings come with their outstanding weather-resistant PBR roof, or you can opt for their patented Zeus-Shield® standing seam metal roofing system. GSA approved Olympia Steel Buildings set themselves apart by using better materials, better quality control, exceptional customer service and industry-leading warranties, including a 25-year rust through perforation warranty.
Olympia pre-engineered steel buildings are precision engineered and expertly erected to give you a "tight" building that reduces air infiltration into the building saving on HVAC costs. They offer 12 energy efficient colors for metal buildings to reduce cooling costs and come with a 40-year warranty against chipping, cracking, peeling or blistering. Because of such key features, Olympia pre-engineered steel buildings can qualify under LEED Green Building guidelines. For more information about Olympia Steel Buildings and what they can do for your construction project, visit their website http://www.olympiabuildings.com or call 888-449-7756