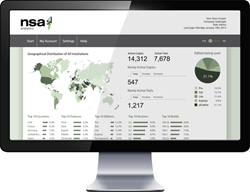 Now Software CEO's will be able to easily focus their team on building features that have the most value to their Customers.
Palo Alto, CA (PRWEB) October 27, 2013
The World of Analytics is exploding with exciting new entrants in the Mobile Analytics and web space but the traditional Desktop/Enterprise Software business has been left without many options until now. Nalpeiron, a provider of Software Licensing and Software Analytics tools, has stepped up to plug this gap in the market.
Click for a Nalpeiron Software Licensing & Analytics Full Functioning 30 Day Trial
Within 24 hours a developer of Desktop or Enterprise products can retrofit their applications and start getting real-time data on the usage of their products in the real-world. This is a big improvement on the current position where traditional software is usually a black hole for User Feedback and Run-Time Software Analysis.
Now Product Managers can get the same level of detailed data and business information they have been able to get via a SaaS or mobile application. Dashboards are used to quickly review useful information and see trends visually. The Service includes Software License Management too - combining the data into a picture of the usage from a trial download through purchase to end of life.
Watch a Summary Video About the Software Analytics and Software Licensing Service
This important segment of the Software World will no longer be in the dark. Enterprise Software CEOs can make more data-driven decisions and reduce risks in product development by focusing their teams on building features that provide the most value to customers.
More about the Software Licensing Management and Software Analytics Service here: http://www.nalpeiron.com/.
---
Hi-res. images here if they are helpful: https://www.hightail.com/download/OGhkR0lTSWU3bURsZThUQw.
About Nalpeiron
Nalpeiron was founded over 20 years ago in 1991. Nalpeiron Inc. is a leader in the Software Analytics and Software License Management business, with millions of consumer users and thousands of enterprise customers who rely on Nalpeiron every day.